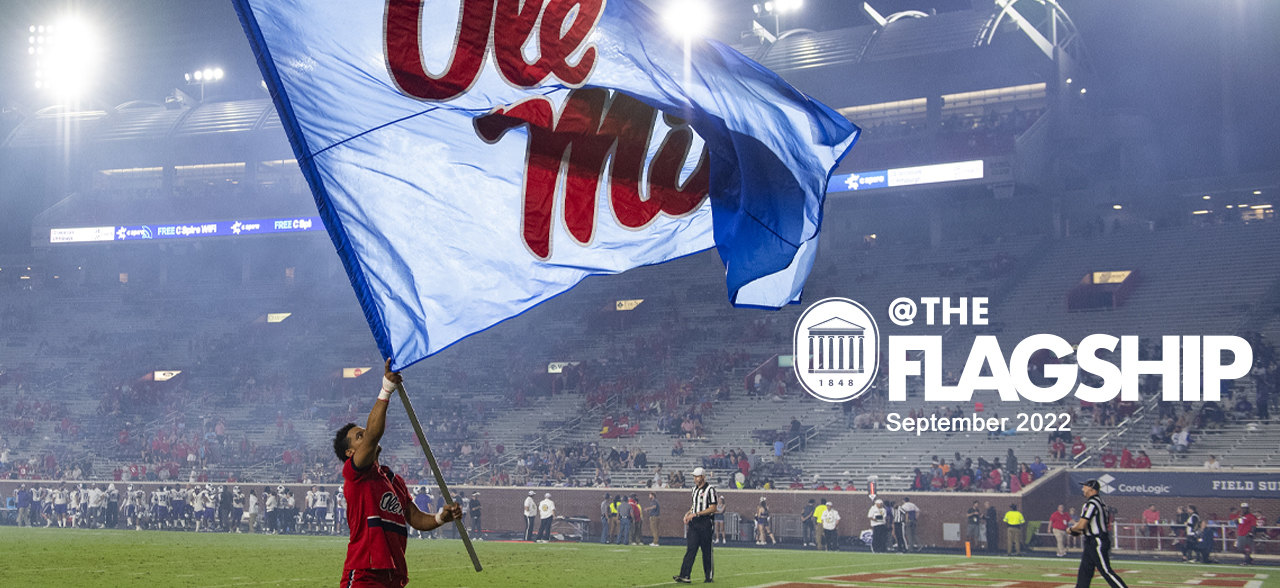 CHANCELLOR'S 3 THINGS TO KNOW
---
The fall semester is off to a great start in Oxford. Our Center for Manufacturing Excellence recently hosted the Mississippi Forge Forward Summit focused on workforce development and education for Mississippi's defense industry. We honored the longtime generous support of the Gertrude C. Ford Foundation with the dedication of The Gertrude C. Ford Ole Miss Student Union. Fall athletics are in full swing as well, including a 4-0 start for Ole Miss Football, the first time since 2015. With so much happening on campus, here are three things to know right now:
60th Anniversary: In 1962, James Meredith became the first African American to enroll at the University of Mississippi, and this year we celebrate his leadership and the 60th anniversary of the university's integration. Thanks to Dr. Shawnboda Mead, vice chancellor for diversity and community engagement, and with tremendous support from a special planning committee, the campus community has organized programs, events and projects throughout the 2022-23 academic year. We're grateful to Mr. Meredith and his family for their presence at the commemoration's signature event on Sept. 28, and we look forward to hearing from Mr. Meredith at that event. It is a humbling honor to thank him and reflect on the path of the university over the past 60 years. Please see the special section below for more information regarding the commemoration events.
Top University: The University of Mississippi remains the highest-ranking university in Mississippi and among the top 10% of public universities in the nation, as ranked by U.S. News & World Report in its "Best Colleges" 2022-23 report. UM ranks No. 72 among public universities and has been in the top 100 for 12 consecutive years. The university also ranked highest in the state for best value and veteran support programs, ranking No. 40 among public institutions in the "Best Value Schools" report and No. 68 among public universities for schools that make pursuing a college education more affordable for veterans and active-duty service members. These distinctions reflect our academic excellence and our commitment to student success.
Great People. Great University.: At Ole Miss, one of our top priorities is caring for our people. That's why we're thrilled to be recognized for the 13th time as a "Great College to Work For" by The Chronicle of Higher Education. The university was recognized in several categories, including faculty and staff well-being; diversity, inclusion and belonging; faculty experience; and shared governance. A thread connecting these categories is a commitment to treating one another with respect, fairness, civility, and kindness. I'm grateful to all members of the university community for contributing to the outstanding work environment that led to this achievement. You are what makes Ole Miss a great place to work!
And here's a bonus item: Check out our university's new television commercial that debuted earlier this month on the telecast of our football team's win over Georgia Tech. It features many of our outstanding students and their hopes and dreams for the future.
Hope to see you on campus soon, and take care!