By Jeff Roberson, Oxford Citizen
Sharon Vitter is the new First Lady of the University of Mississippi. Already she is embracing the town of Oxford, the Ole Miss community, and what she believes will be warmer weather than in Lawrence, Kansas, where they now reside.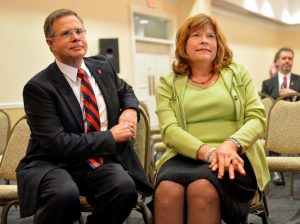 "We were here for the game last weekend, and we got to go to downtown Oxford," she said of the Ole Miss football game against Texas A&M she and her husband, new UM Chancellor Jeffrey Vitter took in. "It's a quaint, beautiful little town. We're looking forward to coming here, and I'm looking forward to this being my last move.
"I've always known what his ambitions are and that he wanted to get back to the South. I'm not opposed to being in a milder climate during the winter. So I'm happy to be here."
A native of Kansas and a graduate of the University of Kansas, Sharon Vitter has been back at KU since 2010.
"After I graduated from pharmacy school (at Kansas), I moved away and I was away for 30 years until Jeff became provost at KU," Sharon said. "So I felt like it was lucky for me to be able to go back to Kansas for five years that we were there."
Although the University of Kansas is larger than the University of Mississippi, and the town of Lawrence larger than Oxford, there are some common themes.
"Lawrence is similar in a lot of ways to Oxford," she said. "The universities are similar in a lot of ways. KU's a little bigger. Lawrence is a little bigger. The quaintness and the way alumni love to come back to the university and be a part of it are similar. A lot of KU alumni are moving back to retire in Lawrence. As you know, there are many things to do in college towns, from theater, music, and athletics to keep you entertained."
As First Lady of the University of Mississippi, Sharon Vitter said she is anticipating all that it means.
"I'm looking forward to it. Jeff's leadership style is that we've always entertained and played a prominent role in doing things. We plan to entertain hopefully quite a bit in the house, have the public in, have people in to get to know us and get to know their university and their house. It's a beautiful house. We're looking forward to getting settled and getting in there."
The Vitters have three children who are very accomplished and who continue to advance their careers and education.
"Our oldest, Jillian, is at the University of Colorado," Sharon said. "She's an anesthesiologist. She's chief resident in her fourth year. She will be heading to Ochsner in New Orleans to do a pain fellowship.
"Our son is a second-year mechanical engineering grad student at UT-Austin. He did ROTC at Notre Dame and spent four years in the Army. He spent 2013 in Afghanistan. He's been active duty National Guard in graduate school, but he's finding that the commitment of the Guard and studying for his exams and doing researches is a lot. So he's decided to leave the Guard at this point.
He's Jeffrey Scott Vitter, Jr., and goes by Scott. His interest is alternative energy in power sources, because when he was in Afghanistan he saw countries like that who didn't have a reliable energy source are never going to be peaceful until people have energy 24/7, running water, refrigeration, that sort of thing. He wants to try to make a difference in those areas of those countries.
"Our youngest is Audrey. It's Jeff's mother's name. She works for GE oil and gas. She's in a process auditing role right now where she moves every three to six months, She's currently in France at a gas turbine manufacturing facility. GE just bought the plant. What she does there is she goes in and she determines how they can be more efficient in making the wind turbines, cutting out wasteful middle steps, and that sort of things. They're all three happy, they're doing what they want to do, and we're very proud of them."
Source: http://djournal.com/oxford/2015/11/01/sharon-vitter-looks-forward-to-living-in-oxford/