Welcome back to my blog series on our strategic plan Flagship Forward!  My previous blogs focused upon two of the plan's pillars: academic excellence and building  healthy and vibrant communities.  Today I am writing about a pillar that makes all our success possible:  What we achieve, we achieve through our people, places, and resources. 
With the recent celebration of Staff Appreciation Week at UM Oxford, the timing of this blog couldn't be better, so let's jump right in with recognizing the 2018 Outstanding Staff winners:
Nettie Tyson, Facilities Management, 2018 Overall Outstanding Category winner;
Laura D. Brown, Financial Aid, EEO1;
Joseph Baumbaugh, Alumni Affairs, EEO 3;
Kathy McCluskey, Human Resources, EEO 4;
Lynn Reece, Distance Learning UM Desoto, EEO 5;
Hunter Snow, Utilities, EEO 6;
Michael Lewis, Facilities Management, EEO 7.
I'd also like to give a big shout-out to the 60-plus staff members who have 20 or more years of service!  As my chief of staff Sue Keiser says, our staff are at the center — setting this university in motion, keeping it spinning, precisely balanced and always moving.  Our staff play a vital role in shaping Ole Miss into the extraordinary university where people want to be.
At UMMC's Excellence in Nursing Awards, recognitions went to these 10 top healthcare performers:
Michelle Goreth, Advanced Practice Nurse of the Year;
Sarah Gilbert, Inpatient Clinical Practice Nurse of the Year;
Martha Cooley, Lifetime Achievement Award for Nursing;
Brittany Ransom, Nurse Educator of the Year;
Cissy Lee Nurse, Manager of the Year;
Jasmine Moore, Nurse Mentor of the Year;
Teresa Fink, Nurse in Non-Traditional Setting of the Year;
Lillie McCoy, Nurse Rookie of the Year;
Neal Loving, Nurse of Distinction;
Mother-Baby, Unit Nurse Team of the Year.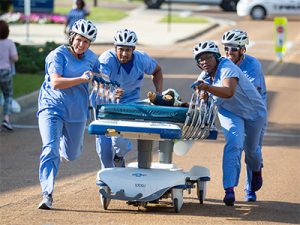 And we can't forget the annual hotly contested UMMC Gurney Races.  This year's Golden Stethoscope award was won by the commanding performance of Team Smooth Operators from the Batson Children's Hospital operating room.  Team members included Kyle Dickerson (captain), Haley Welch, Jonathan Nichols, Chandry Brown, and Barry Berch.
The last several weeks have formed a sort of "awards season" in which we have honored some spectacular people with some of our most notable awards:
And this year we began a regular process of awarding Distinguished Professor designations to recognize outstanding faculty with sustained excellence at UM.  Congratulations to our inaugural honorees:
John Daigle, director of the Center for Wireless Communications and Distinguished Professor of Electrical Engineering,
Donald Dyer, associate dean for faculty and academic affairs in the College of Liberal Arts and Distinguished Professor of Russian and Linguistics, and
Ikhlas A. Khan, director of the National Center for Natural Products Research and Distinguished Professor of Pharmacognosy.
Our people also provide leadership at the national level.  Among our many examples, let me share that LouAnn Woodward, vice chancellor for health affairs and dean of medicine, serves as chair of the Liaison Committee for Medical Education, the accrediting body for medical school in the U.S. and Canada.  And David Allen, dean of pharmacy, professor of pharmacology, and executive director and research professor of the Research Institute of Pharmaceutical Sciences, is the president-elect of the Board of Directors of the American Association of Colleges of Pharmacy, the national organization representing pharmacy education in the U.S.
Another example is Karen Raber, professor of English, who was named executive director of the Shakespeare Association of America, which will now be headquartered at UM.  And Brandi Hephner LaBanc, vice chancellor for student affairs, serves as secretary for the Council on Student Affairs of the Association of Public and Land-grant Universities as well as a member of the LeBron James Family Foundation Board.  All that national leadership looks like a slam dunk to me!
Many dozen other UM faculty, staff, and students serve or have served as elected officers of professional societies or as selected advisors to public and private entities.  Through their focus on service, these members of our community help shape their disciplines as well as enhance the visibility and stature of UM.
It's no wonder that the Chronicle of Higher Education has named UM a "Great College to Work For" nine years in a row and has included us as one of only 10 universities on the Great Colleges Honor Roll for the last two years!
So, what are some other ways we excel in people, places, and resources?  For starters, how about the strides we have made in growing our veteran and military services?  UM is regularly recognized as one of America's top military-friendly colleges and universities, and we see why through such programs and achievements as the creation of Purple Heart Parking, the opening of the Veterans Resource Center, the Yellow Ribbon program with the law school, and, of course, the touching story about Colton and the My Ole Miss Wish.  Our veteran and military students are integral members of the Ole Miss family, and we're committed to providing the resources, advocacy, and guidance for their achievement and success.
Another huge measure of success we can point to is the tremendous generosity of our passionate alumni and friends, who have given more than $100 million annually for the last six years.  And our current year, which ends June 30, will make the seventh year in a row! And our endowment now stands at $700 million.  This private support is crucially important for our flagship university.  It allows us to offer the exceptional programs that draw people to the university — such as the Sally M. Barksdale Honors College (which I'm convinced is the best in the nation), the Haley Barbour Center for Manufacturing Excellence, the Trent Lott Leadership Institute, the Croft Institute for International Studies, the Chinese Language Flagship Program, the McLean Institute for Public Service and Community Engagement, and the Gertrude C. Ford MIND Research Center.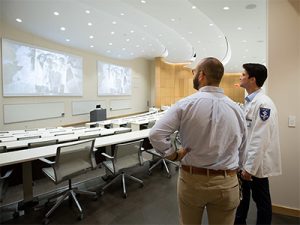 And through philanthropy, we are building for the future — literally!  With more than $1 billion in construction (planned or underway), the results are all around us: new classrooms, new laboratories and research facilities, new residence halls, and renovated spaces across our university.  At UMMC, our beautiful, new $76 million state-of-the-art medical education building and a $180 million expansion of our renowned Children's Hospital will dramatically propel us forward to achieve #AHealthierMS.  Our basketball teams now compete in the world-class, $90 million Pavilion at Ole Miss.  A $32 million project on the south end of the Oxford campus will provide a new recreation center and transportation hub.  And our $150 million Science Innovation Institute — our biggest project ever on the Oxford campus — will be a real game changer for our students.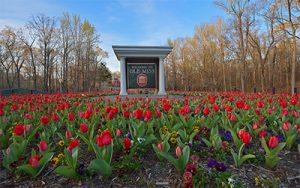 As I wrap up, I want to reiterate that there's no way I can cover everything in a 1,000-word blog, but I would be remiss if I didn't mention our listing on the Phi Theta Kappa Honor Roll as a transfer-friendly campus, how we've hosted this week's Boys State for the last three years, that we're one of nation's safest college campuses, and that we're consistently ranked among the nation's best and most beautiful!
As you can see, it's our people, places, and resources that make us who we are and enable what we accomplish.  As this year's exceptional commencement speaker Walter Isaacson recently shared, "What really matters is being imaginative, being creative, being innovative, and most important of all, just being good."  What better way to heed those words than to continue moving ever forward and realize our mission as a flagship university to transform lives, communities, and the world.
As always, Hotty Toddy!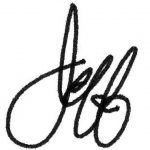 Jeffrey S. Vitter
Chancellor and Distinguished Professor