There's no doubt about it: the beginning of the fall semester is one of our most vibrant times at Ole Miss.  It's not just our student body that's fired up to be back on campus this time of year.  Many of our institutional initiatives are also in full swing.
The third annual UM Tech Summit offered a perfect example of the dynamic environment that our leaders and faculty have cultivated at Ole Miss.  The Summit, which drew a standing-room-only crowd to the Inn at Ole Miss, also underscored the university's commitment to becoming a national leader in STEM education and to building upon our status as a Carnegie R-1 highest research activity university.
So what's the UM Tech Summit?  It's a gathering of thought leaders from government, industry, and education that explored the future of technology in contemporary society: the challenges we must address, the opportunities before us, and how to work together most effectively.  Like a great chemistry experiment, the Summit offers a platform to combine different elements and provide a catalyst for reaction.  It was also a venue to showcase a really cool, really big drone, thanks to the folks at AT&T who generously let us borrow it!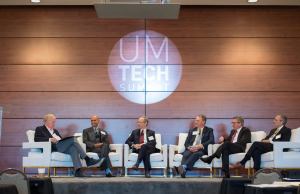 We were honored to host a slew of national leaders. U.S. Sen. Roger Wicker, who envisioned the original Summit, was our guest of honor and shared remarks.  As chair of the Senate Subcommittee on Communications, Technology, Innovation and the Internet, Sen. Wicker is one of our nation's foremost leaders in technology-related public policy.  He's also an Ole Miss Rebel!  We're extremely fortunate to have Sen. Wicker as an advocate in Washington, including his championing of our Tech Summit.
Rob Carter, chief information officer at FedEx, was the Summit's keynote speaker.  Rob has more than 35 years of systems development and implementation experience — an interview in Forbes Online described him as being "on the short list of the finest CIOs in history anywhere."  Rob shared stories about the long road of innovation at FedEx, explaining the ways FedEx developed groundbreaking tools that spurred America's culture of continuous innovation.  I especially loved his description about how the world becomes a better place when you connect people and possibilities.  We really appreciated Rob joining us — FedEx has been a great partner to the university, and it is home to quite a few Ole Miss alums!
We were also pleased to hear from Michael Kratsios, deputy assistant to the President in the Office of Science and Technology Policy.  Michael advises the President on a broad range of technology policy issues and drives U.S. technology priorities and strategic initiatives.  His remarks provided insight into current policy and offered an optimistic outlook for the future of American innovation.
The roster for the entire event was truly impressive, and I encourage you to check out the bios of all participants.  We were especially honored to have distinguished moderators leading three very stimulating panel discussions.  Former Gov. Haley Barbour led a thought-provoking discussion on how best to prepare students to succeed in tomorrow's workforce — and how to excite them about pursuing careers in industry and government.  Jim Barksdale — tech pioneer, Ole Miss alum, and noted philanthropist — used his sharp wit, intelligence, and knowledge to moderate our "Future Opportunities and Challenges in Tech" panel.  Fun fact: Jim will soon be depicted by Bradley Whitford of The West Wing in a new television show, Valley of the Boom!  And Allyson Best, director of UM's Office of Technology Commercialization, facilitated the "Technology Applications in Government and Industry" panel, which covered recent technology applications and the process of moving discoveries into action effectively.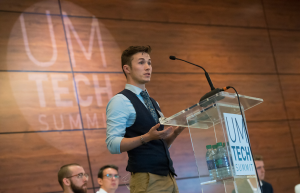 As a new feature at this year's summit, we heard three-minute talks from seven stellar Ole Miss students representing various programs on our campus, including the McLean Institute for Public Service and Community Engagement, the Arabic Flagship Program, the Haley Barbour Center for Manufacturing Excellence, and more.  These students spoke with insight and passion about the ways technology has benefited their studies and other pursuits.  One of them, Elena Bauer, described using virtual reality tools to give Mississippi high school students opportunities to learn about other cultures — providing experiences they might not have otherwise.  Watching our Ole Miss undergraduates speak gave me such pride as chancellor.  Who wouldn't feel optimistic about the future of tech after seeing such bright, enthusiastic, dedicated young people?
All of the Tech Summit attendees and participants not only brought a vast array of experiences, but also brought an amazing energy and a collaborative approach about how we can work in tandem to find solutions and discover smart ways to reach our goals.  I am tremendously proud of the university's role in preparing our students for a tech-driven future and the countless ways Ole Miss is maximizing our resources and talents to make a powerful impact in our state and beyond.  Stay tuned as we continue building upon the great momentum from this outstanding event!
As always, Hotty Toddy!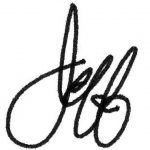 Jeffrey S. Vitter
Chancellor and Distinguished Professor