As tens of thousands celebrate the 22nd Annual Double Decker Festival this weekend, I thought it would be a great time to share some thoughts about the importance of arts and culture to our university community.  Anyone who has visited Ole Miss and Oxford — even just one time — knows that the cultural life of our university and town are second to none.  It is no mistake that Visit Oxford touts our description as the "Cultural Mecca of the South."  As Sharon reminds me, the arts keep everything vibrant and relevant, and members of the Ole Miss and Oxford communities have immense opportunities to take advantage of the arts that are so conveniently located.
"In my own philanthropy and business endeavors, I have seen the critical role that the arts play in stimulating creativity and in developing vital communities….the arts have a crucial impact on our economy and are an important catalyst for learning, discovery, and achievement in our country."
–Paul G. Allen, Co-Founder, Microsoft
The arts are a quintessential part of life on a college campus — where members of the university community are exposed to cultural opportunities they might not otherwise have access to — from literature to music to visual and performing arts.  While we cannot all be world-renowned concert pianists like our own Chancellor's Artist-in-Residence Bruce Levingston or the Poet Laureate of Mississippi like UM English Professor Beth Ann Fennelly, we can all appreciate and benefit from how the arts speak to our human experiences.
For me, my appreciation for the arts is deeply rooted in my New Orleans upbringing.  It only takes one visit to NOLA to grasp the city's joie de vivre mentality through its strong cultural foundation, vibrant arts scene, and love of music.  The arts provide an enduring legacy that helps us gain insight into cultures of other times and places.  It brings us beauty and joy, expands our thoughts and perceptions, and provides inspiration for the soul.  And the real splendor lies in how the countless expressions of art and culture intersect across all disciplines.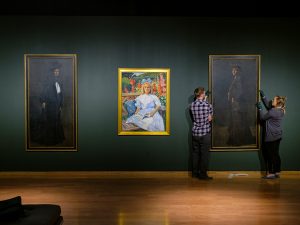 From Faulkner to the Ford Center, we have a plethora of amazing experiences and venues here.   While this blog cannot be a comprehensive listing of all our opportunities, suffice it to say that we serve as an art and cultural hub.  For example, did you know that our University Museum is ranked as one of the nation's best collegiate art museums by Best College Reviews?  With a collection of more than 20,000 objects, our museum serves more than 10,000 Mississippi school children and youth annually.
On any given weekend, you can discover a multitude of performances, concerts, shows, and events.  Take the annual Oxford Conference for the Book just held last month.  Founded by the Center for the Study of Southern Culture and Square Books 24 years ago, the conference brings together fiction and nonfiction writers, journalists, artists, poets, publishers, teachers, students, and literacy advocates from all over the world to celebrate the written word.  Goodness knows we've got quite a bit of literary cred around here — from John Grisham, Barry Hannah, and Willie Morris to Larry Brown, Greg Iles, Donna Tartt, and Tom Franklin!  And, of course, to bring the literary component alive, we have the original family home of William Faulkner, Rowan Oak.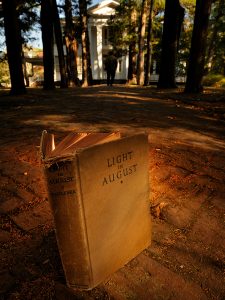 Or how about our Gertrude C. Ford Center for Performing Arts — truly one of the gems of the Oxford campus for 15 years now — where you can catch phenomenal performances, everything from ballet to Broadway.  It is a premier entertainment venue, with over 50 events a year!
As for music, our Blues Archive, established in 1984, not only serves Ole Miss students and faculty, but researchers worldwide.  With over 60,000 sound recordings, over 20,000 photographs, more than 1,000 videos, and over 34,000 books, periodicals, and newsletters, the Blues Archive houses one of the largest collections of blues recordings, publications, and memorabilia in the world.  Our collections even include B. B. King's personal record collection!
And staying with the music theme, for more than 40 years our UM Gospel Choir has performed at countless events and received numerous awards and recognition.  In fact, this premier student organization has even been nominated for a Grammy Award. And guess what? They are a featured performance this Sunday at a Gospel Choir Showcase on the Square to close out Double Decker weekend.
In addition to all the exceptional experiences offered on campus, we cultivate our fantastic town–gown relationship with Oxford and regularly collaborate, partner, and sponsor events in the community.  A great example is this weekend's event, Double Decker, which is presented by UM Museum and Ole Miss Athletics.  Or how about Thacker Mountain Radio — celebrating its 20th anniversary this year — that you can catch live on Rebel Radio 92.1 FM.  And the Oxford Film Fest, celebrating the art of independent cinema for 15 years now, provides a great opportunity for Ole Miss students, faculty, and alumni to volunteer, sponsor, as well as feature their talents.
With many events on the horizon, I encourage you to be on the lookout for opportunities to immerse yourself in the arts — whether by enjoying an exhibit in Gallery 130 in Meek Hall, attending the numerous concerts and recitals hosted by the Department of Music, or taking in one of the 4–5 shows produced each year by Ole Miss Theatre.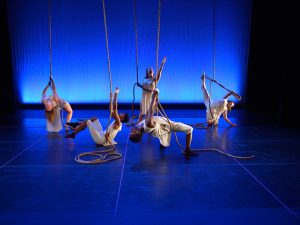 Be sure to mark your calendars for the May 20th Oxford celebration and author event at City Hall for the publication of The Mississippi Encyclopedia.  This mammoth collaboration includes over 1,451 pages of entries on every county, every governor, and numerous musicians, writers, artists, and activists.  You should also make plans to attend the exciting events in celebration of the state's Bicentennial.  Country and Americana music legend Marty Stuart will headline the Governor's Concert on June 24 at the Ford Center, which will also feature Mississippi's Music and Culture Ambassador Steve Azar, Mac MacAnally, Vasti Jackson, Shannon McNally, David Lee (winner of the 2015 Ultimate Elvis Tribute Contest), the Mississippi Bicentennial Symphony Orchestra, and the Mississippi Bicentennial Singers.  And don't miss a special edition of Thacker Mountain Radio Show live in the Grove followed by a Mississippi Soul Singer Tribute by our very own Rebel, Damein Wash.   We are certainly helping live up to our state's motto as "The Birthplace of America's Music."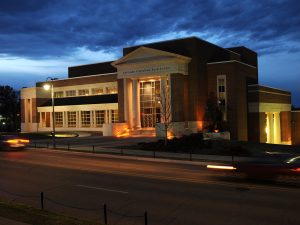 As a flagship institution, we are committed to growing our capacity in the arts.  Looking ahead, we must focus efforts to enhance and build upon our wonderful — and numerous — arts and cultural resources and programs.  As I announced in my investiture speech last November, one of our new initiatives is to develop a cultural gateway to draw together our arts and cultural programs to connect our visual arts, performing arts, museums, archives, and archeological resources.  This space will create performance, experiential learning, and enrichment opportunities to support our community and region.  It will allow people of all ages and from all over the world to come — physically and virtually — to learn about our culture and history and to experience the talent and creativity of our artists.
In closing, I remind you of the words of famous writer and philosopher Thomas Merton, who once said, "Art enables us to find ourselves and lose ourselves at the same time."  I encourage you to come find yourself… and then lose yourself in all the amazing opportunities that abound in the arts at Ole Miss and in Oxford!
Hotty Toddy!
    – – Jeff
– –
Jeffrey S. Vitter
Chancellor and Distinguished Professor