I relish my role as the voice of the university.  Since arriving at Ole Miss, I have made it a priority to expand communication and connectivity via personal visits, town halls, informational blogs, and robust use of social media.  One of the great benefits of doing so is that not only do you get to hear more from me, but in addition I get to hear from you — faculty, staff, alumni, and students.  Especially students.
Over the last 15 months, I have received numerous requests, suggestions, and observations, particularly via Twitter, on a wide range of topics related to university life.  I am pleased to report that the senior leadership team and I have carefully reviewed these tweets, and based upon your insightful input, we are now updating several policies and guidelines.
A primary theme running through many of the communications indicated a dire need to re-examine our attendance policies, in particular, for those situations that necessitate cancellation of classes.  After in-depth consultation with Provost Noel Wilkin, Vice Chancellor LouAnn Woodward, and emergency management coordinator Barbara Russo, we are instituting the following items as grounds for class cancellations, effective April 1, 2017:
1. City-wide power outages.
2. Mardi Gras.
3. Persistent plumbing issues.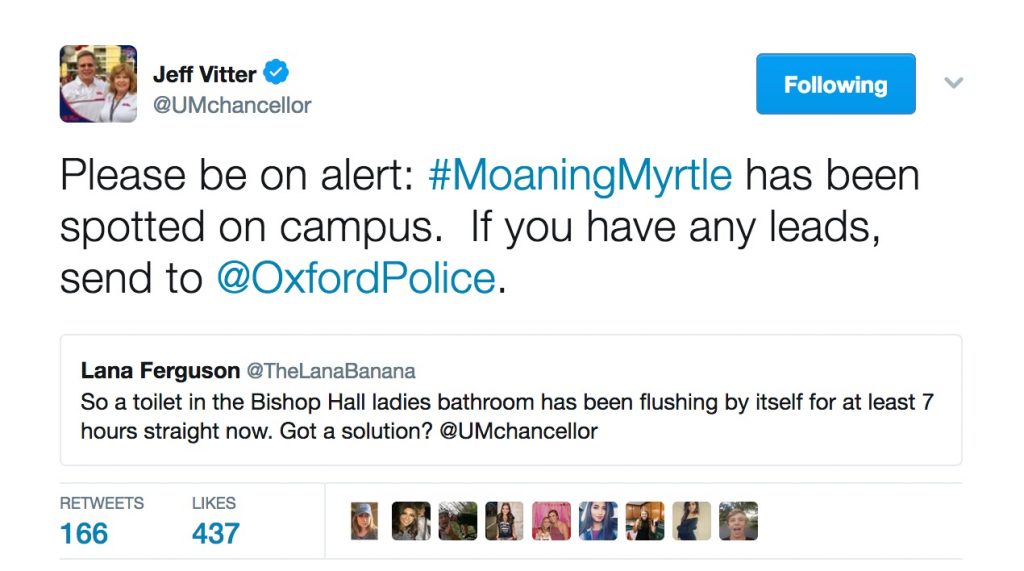 4. Building temperature regulation issues.
5. Precipitation falling from the sky.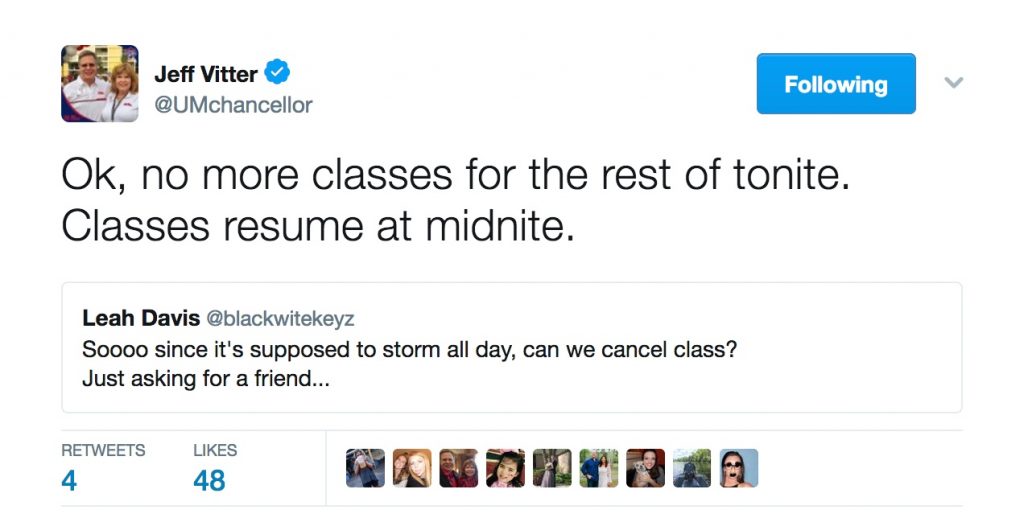 6. Great weather, blooming tulips, and baseball games. (All three factors must occur concurrently.)
7. Stressful Super Bowl games.
8. It's your birthday. Please note that this new policy does not cancel classes universitywide, but instead, gives individuals an excused absence from classes that fall on the day of their birth.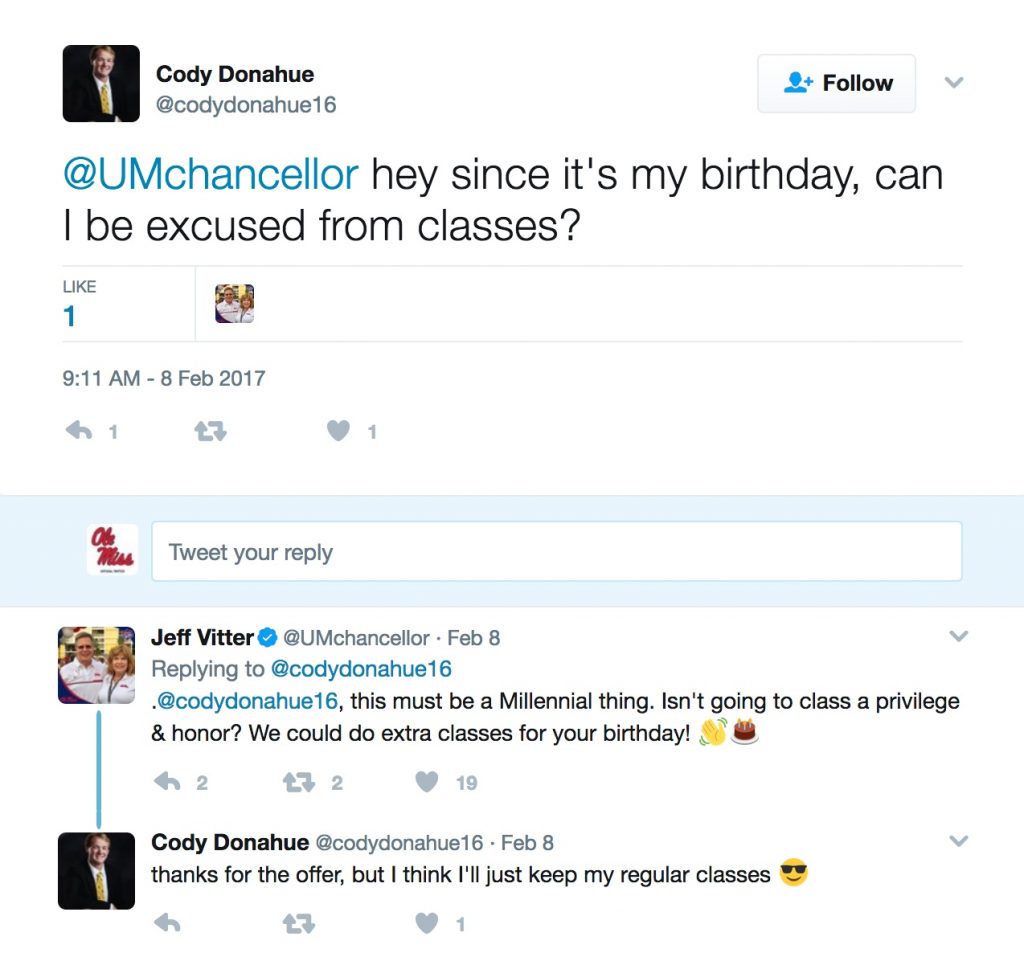 A second area identified was the need for additional factors to consider when granting tuition waivers and other special accommodations.  After lengthy discussions with Larry Sparks, our vice chancellor for administration and finance, and Brandi Hephner LaBanc, vice chancellor for student Affairs, here are some new guidelines we are putting into place effective April 1, 2017:
1. Electrocution while utilizing university facilities.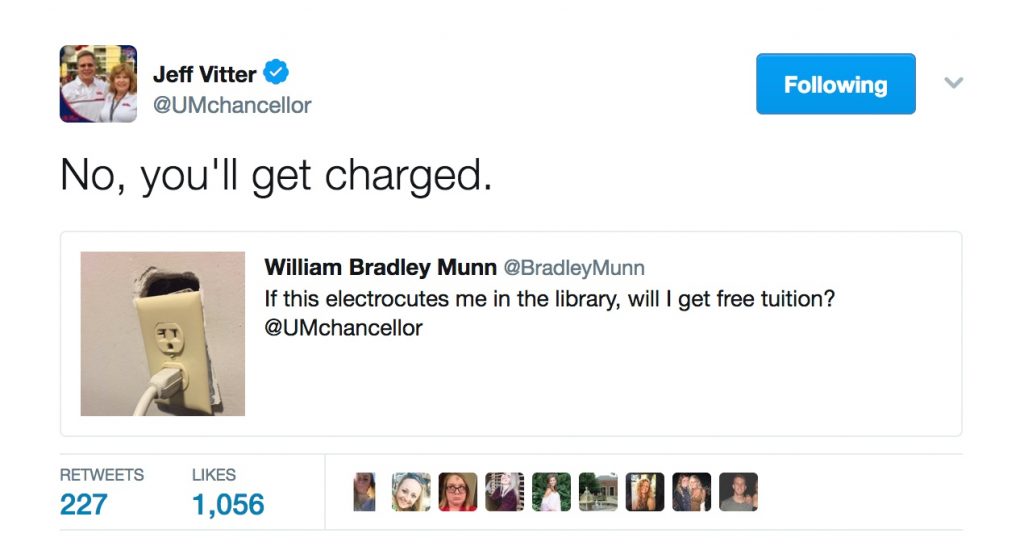 2. Supplying concrete evidence of the Lake Sardis Monster.
3. Offering the chancellor a ride when it is raining. Deemed null and void when class is cancelled.  See updated policy 5 for class cancellation.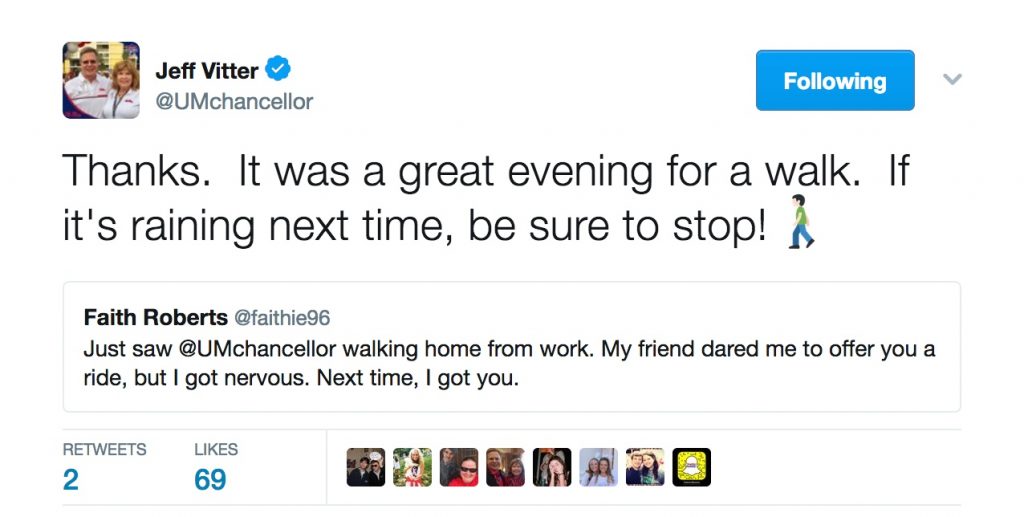 4. Asking the chancellor for a ride.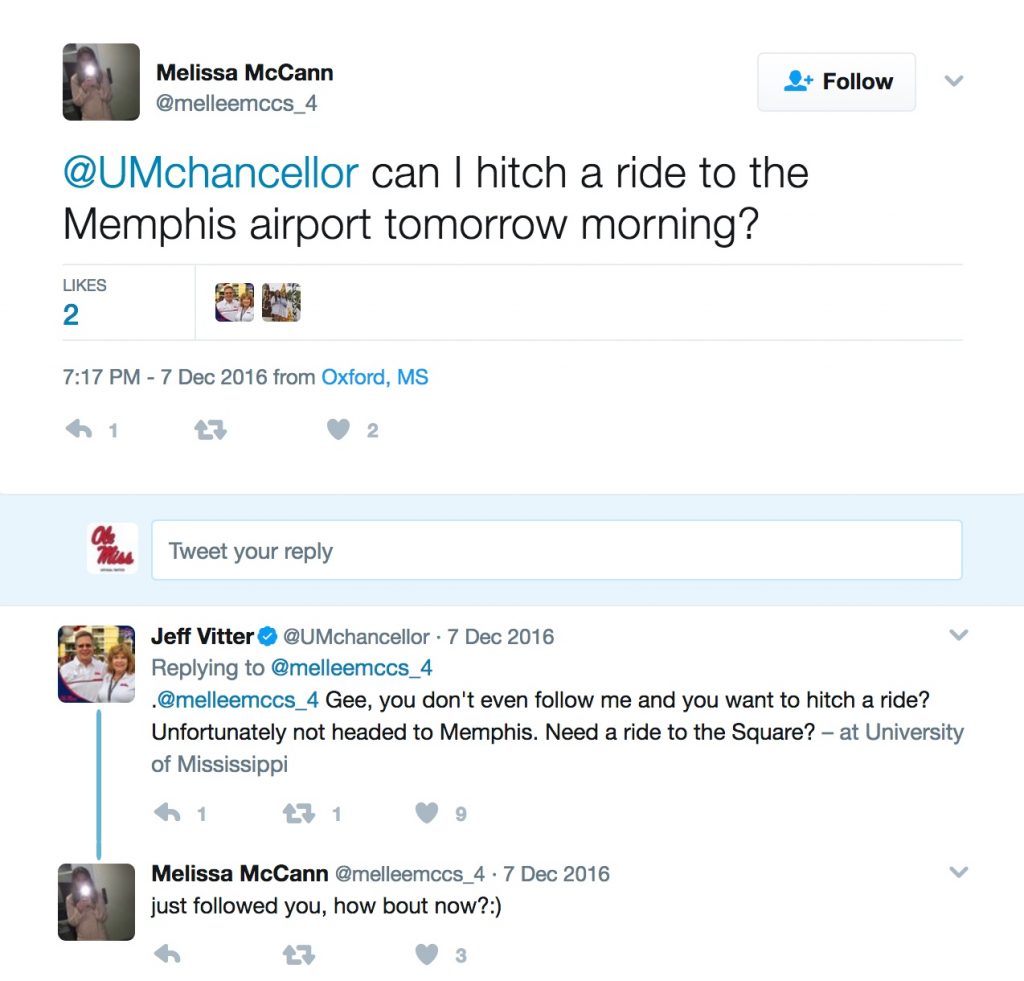 5. No hot showers in residence halls for more than two consecutive days.
Hey @UMchancellor Crosby Hall doesn't have hot water and the maintenance crew hasn't fixed it. Help please? pic.twitter.com/rUgMMwGCf6

— Darby (@darbo_hydrate) February 19, 2017
Hey @UMchancellor thanks for checking in on our hot water crisis and caring for your students! Cros is back to normal pic.twitter.com/1G9YUAJ7aN

— Darby (@darbo_hydrate) February 22, 2017
6. Acute awareness of carillon repertoire for Paris-Yates Chapel.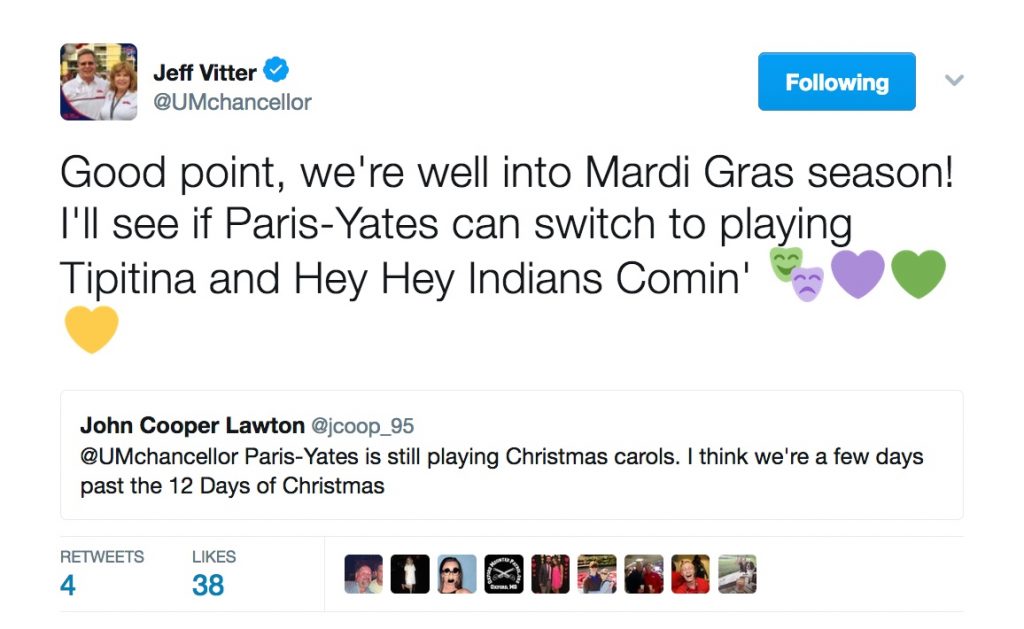 7. 47 Parking tickets. While this specific item is not actually included in the new tuition waiver policy, it will gain you naming rights to the tulip beds in front of the Lyceum.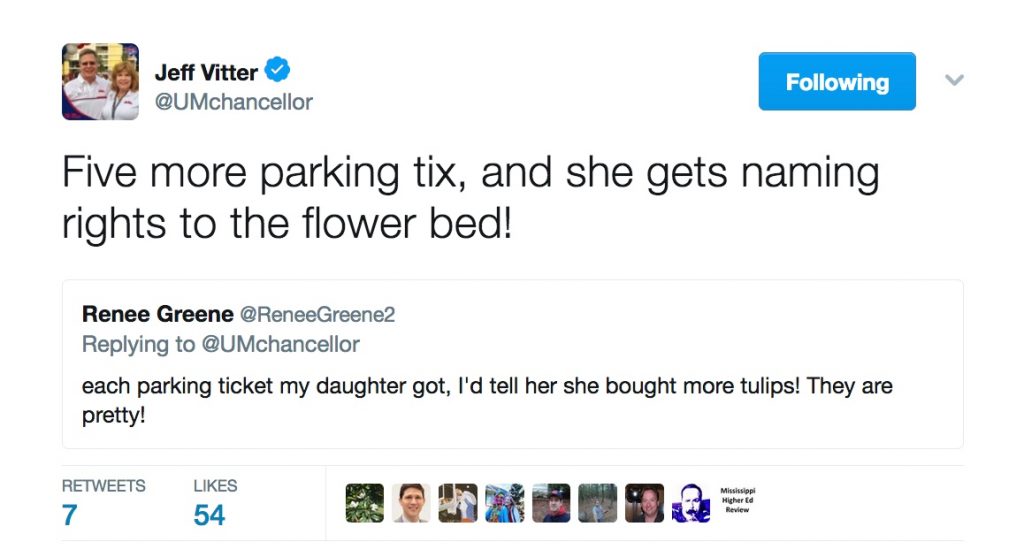 A final area that I want to update you on relates to new and expanded special events and venues around campus.
1. Puppy rooms for stressed students.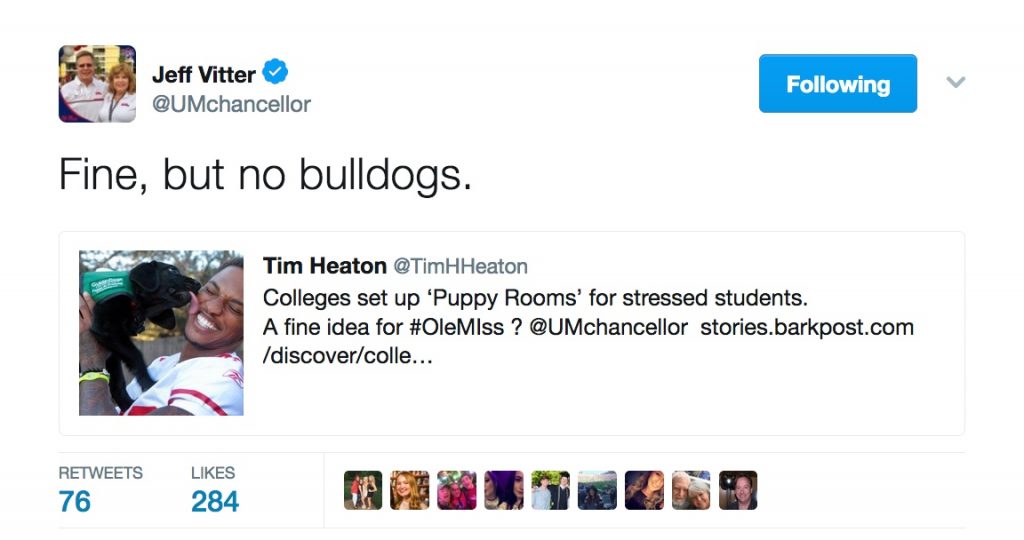 2. Expanded offerings of crawfish boils at every athletic venue on campus, February through June.
Additionally, there will be a crawfish food truck every Tuesday and Thursday in front of the Lyceum. These expanded offerings are to ensure that no student (or chancellor) goes without a consistent supply of crustaceans.
Before I close, I want to make a few additional announcements of interest. I am pleased to share that Director of Admissions Whitman Smith has been collaborating with members of the LIGO team in our physics department to apply their exciting, new discoveries related to gravitational waves to our recruiting strategies in order to draw in more students.  It will allow us to extend our international student presence to other galaxies as well.  We expect a big bang effect on enrollment.  They are working with Vice Chancellor for Research and Sponsored Programs Josh Gladden to formalize the approach and spin off other applications.
And last, but certainly not least, we are instituting the mandatory, universitywide use of the Oxford comma.
Sound too good to be true?  Like, literally unbelievable? Click here to learn more about these updated policies and new guidelines.

Hotty Toddy!
    – – Jeff
– –
Jeffrey S. Vitter
Chancellor and Distinguished Professor