Today I am writing about a powerful event — the Innovation and Entrepreneurship Panel — we hosted on campus on October 28. The panel highlighted and celebrated the many ways our university supports and encourages innovative thinking and entrepreneurial activities. I walked away from the event energized by how much the audience benefitted from the inspiring entrepreneurial stories and informed perspectives shared by our distinguished panelists and dynamic entrepreneurs.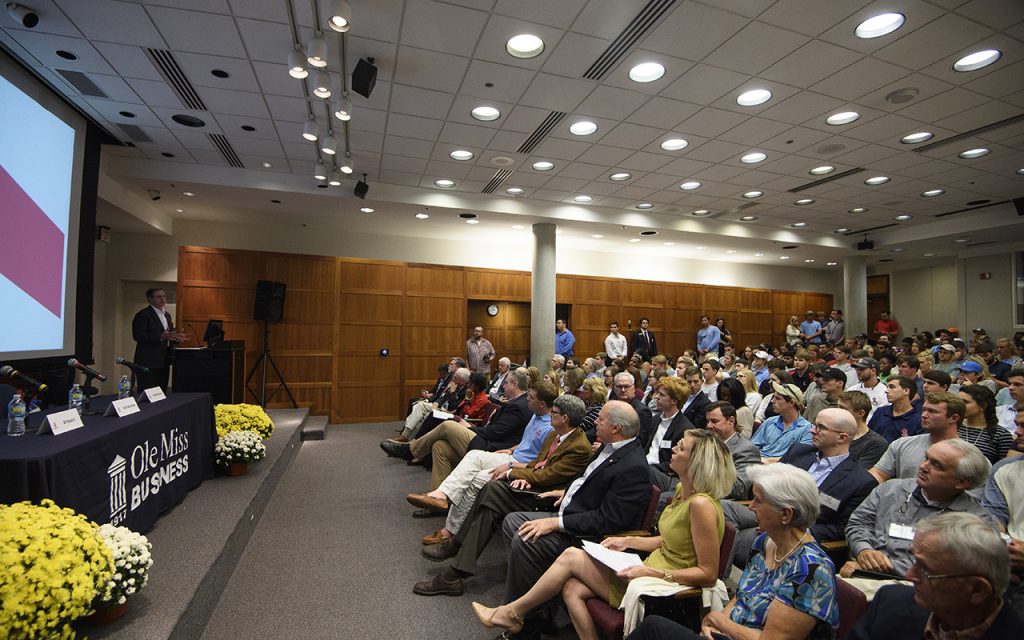 Starting things off for the standing-room-only crowd of 200-plus students, faculty, and staff were two well-known Ole Miss student entrepreneurs — William Ault, founder and CEO of Curtsy, and Janet McCarty, ‪owner and principal at Cotton's Cafe Dog Treat Barkery.  William shared how he and the other Curtsy team members are currently working in Silicon Valley to grow their peer-to-peer dress rental start-up app.  He also shared that the support of the entrepreneurial programs at Ole Miss were key to Curtsy's success.  He encouraged the audience to take advantage of all that the university offers. Conveniently, I've included a list of these university resources at the end of this blog.
What a treat (pun intended!) it was to hear from Janet who creates specialty dog treats from the university's research and business park, Insight Park, and how she has expanded Cotton's Café to a national market.  It was hard not to get caught up in Janet's enthusiasm for her product, her company, and her path to becoming an entrepreneur.  My favorite piece of advice from Janet?  "Find your purpose.  If you are passionate about it, you will succeed!"
Moderated by Clay Dibrell of the Center for Innovation and Entrepreneurship, the panel included some of our most successful Ole Miss entrepreneurs:
Michael Burcham, currently CEO of Narus Health, a healthcare organization that offers support to patients with life threatening medical conditions. He has been the founder of numerous healthcare technology companies over the last 25 years. Burcham is an Ole Miss alum and UMMC graduate.
Edith Kelly-Green, a UM alumna who worked in accounting at FedEx for 25 years. She retired in 2003 as the vice president of internal audit. Upon her retirement, Kelly-Green became a franchise owner of Lenny's Sub Shop. She now owns six restaurants in Memphis.
Bill Rayburn, current Mortgage Trade chairman and CEO. The former professor co-founded the technology company FNC while teaching finance at Ole Miss.
While each has had distinct entrepreneurial journeys to success, all three of our panelists shared many of the same peaks and valleys along their journeys.  They imparted some key advice to the audience that I want to make sure you don't miss:
People invest in people and business models.

Are you committed?  You must be ALL IN.

Take care of your own reputation because it will come into play.

It is all about building relationships.

Don't dwell on failure.  Move on.  Take failure as a stepping stone to the next great thing.

Make a difference.  Do something that is significant, not just successful.

Never quit.  Get right back up and do it again the next day.
For our students in particular, I thought our panelists' responses to a question about workforce skills were very enlightening.  Edith shared that while she is in the business of making money, her investments have turned more into a passion for helping other people. In her employees, she values core qualities like honesty, integrity, and punctuality.  Michael, who has hired about 50 Ole Miss alums over the years, looks for ambitious self-starters with strong problem-solving skills.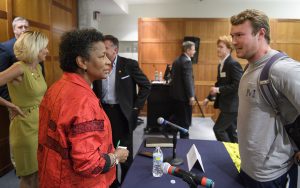 And I was really fond of Bill's use of mosaic theory to describe how he hires people with complementary skills to address strengths and weaknesses in order to put the pieces together to create the whole picture, namely, the company.
So whether you are an established businessperson or a budding entrepreneur, I encourage you to take advantage of the many ways the university is fostering an atmosphere of innovation, an environment of synergy and encouragement, and a spirit of entrepreneurship.  Who knows?  Maybe even one of you will be our next Ole Miss success story and be a featured panelist in one of our upcoming events!

Hotty Toddy!
    – – Jeff
– –
Jeffrey S. Vitter
Chancellor and Distinguished Professor
UM Innovation and Entrepreneurship Resources