Greetings,
On August 29, 2016, we held the first-ever universitywide Town Hall, with more than 250 participants present from the University of Mississippi community, as well as many others taking part online.  I write today to follow up on that dynamic event.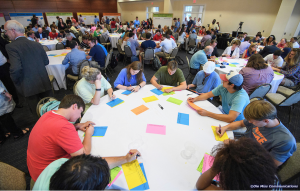 During the Town Hall, I gave a "State of the University" in which I expressed my conviction that all great institutions, including ours, share one important thing in common: a continuous drive and will to get ever better.  The Town Hall — as well as the earlier retreat in June with the leadership of the Oxford and UMMC campuses — represents an important step in how we work together to go from great to greater.
I want to thank everyone who attended, with a special thanks to Ronnie Agnew, a UM journalism alumnus and executive director of Mississippi Public Broadcasting, for serving as our moderator.  The fact that we had to open up an additional section of the ballroom to accommodate the overflow crowd demonstrates how invested we all are in our university's future.  For those of you unable to attend, the meeting was organized around the four pillar themes that emerged from the Flagship Forum:
academic excellence,
healthy and vibrant communities,
athletics excellence, and
people, places, and resources.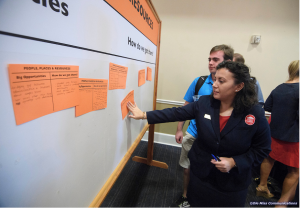 We had large white boards all around the outer edges of the room to gather the hundreds of ideas from participants.  During the Idea Mixer part of the Town Hall, I asked everyone to think about how we go from great to greater by identifying our biggest and most important opportunities to advance in all four areas, as well as how to get there.  I urged everyone to think big and bold.  What should we strive for?  What "could be?"
When I encouraged those in attendance to "take the pen and help write our next chapter," I had no idea that we would be met with such enthusiasm and excitement, resulting in more than 550 ideas.  The Town Hall crowd certainly lived up to our ideal as "Rebels with a cause" and truly provided some inspired, innovative, positive, creative, big, and bold ideas.
In order to share all those ideas, today we are launching the new website TownHall.OleMiss.edu. There, you will be able to read more about the four themes and look at all the ideas submitted — yes, all 571 ideas!  We also have set it up so we can continue to capture further ideas, via the "Share Your Thoughts" tab.  If you did not get a chance to attend the Town Hall and share your ideas, I hope that you will do so using this "Share Your Thoughts" tab.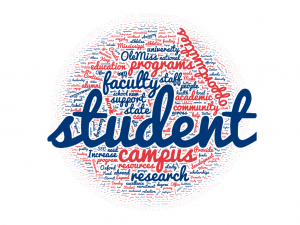 For each of the four themes, we grouped the ideas together into a set of subthemes or categories.  For example, the website includes 161 Academic Excellence ideas, divided into 10 categories.  Some of these categories repeated across multiple themes.  Take, for example, international and global opportunities:  We saw many ideas related to international opportunities emerge across Academic Excellence, Healthy and Vibrant Communities, and People, Places, and Resources.  Or how about ideas related to student recruitment, retention, engagement, and experience?  We saw numerous ideas related to students posted across all four pillar themes.
I encourage you to spend some time on the website and really delve into the ideas.  I'm hoping you will find — as I did — that ours is truly a community of creativity and innovation, one that is motivated and dedicated to excel.
I have charged our senior leadership team, the Strategic Planning Council on the Oxford and branch campuses chaired by Senior Associate Provost Noel Wilkin, and the Executive Cabinet at UMMC led by Vice Chancellor LouAnn Woodward to collaborate during this academic year to create — with wide community involvement — a strategic plan for the University of Mississippi.  While the plan should acknowledge and build upon the many aspects of our great comprehensive university where we must continue to do well, the plan must especially focus on the most compelling goals and opportunities that — at this time —can propel us from great to greater.
The University of Mississippi is truly a great flagship university with enormous momentum. As we embark upon this strategic planning journey, we will do so with broad community input and involvement.  Please check the website often and take part in future discussions as we move forward together.  With your continued ideas and energy, we are poised to go from great to greater.
Sincerely,
Jeffrey S. Vitter
Chancellor and Distinguished Professor