If you recall, fall 2016 was the first time the University of Mississippi had ever hosted a university-wide Town Hall.  Going in, we didn't really know what to expect, so we were ecstatic about the resounding success of the event.  As we began planning this year's Town Hall for October 11, the bar had been set pretty high, so there was a little uncertainty that we could repeat it.  But once again, our campus community did not disappoint, turning out with tremendous energy, ideas, and inspiration!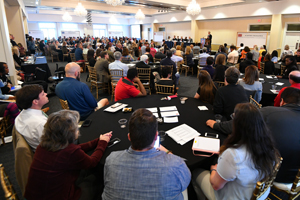 Perhaps the most rewarding part of this year's Town Hall was unveiling the university's new strategic plan, Flagship Forward.   Talk about seeing your ideas put into action!  This new plan is a direct result of the more than 550 ideas shared at the inaugural Town Hall around our four pillars:
academic excellence,
healthy and vibrant communities,
people, places, and resources, and
athletics excellence.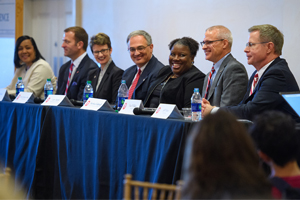 While the new plan is specifically for the main campus in Oxford and regional campuses, it includes for the first time a mission and vision for the entire university, including the University of Mississippi Medical Center.  I am particularly energized that the plan leverages university-wide transformative initiatives — such as Flagship Constellations, M Partner, and the coming launch of a comprehensive capital campaign — that build upon synergies connecting UM Oxford and UMMC.  Let me give an enthusiastic shout out to Provost Noel Wilkin and the entire Strategic Planning Council for an amazing job over the past year of bringing your ideas to fruition and creating the roadmap for our bold path to ever-increasing excellence!
A new feature of this year's Town Hall was our leadership panel representing the four pillars.  While I know y'all love hearing from me 😀 , the panel was a great way to hear directly from some members of our stellar senior leadership team:
Academic Excellence
Noel Wilkin, provost and executive vice chancellor for academic affairs
Healthy & Vibrant Communities
Katrina Caldwell, vice chancellor for diversity & community engagement
Bettina Beech, dean of the School of Population Health, UMMC campus
People, Places & Resources
Brandi Hephner LaBanc, vice chancellor for student affairs
Larry Sparks, vice chancellor for administration & finance
Athletics Excellence
Ross Bjork, vice chancellor for intercollegiate athletics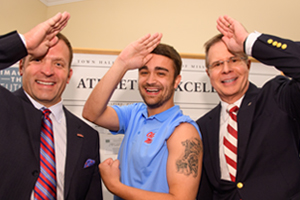 And to Jordan Richardson, who asked Ross the question about implementation of the Landshark mascot, I want you to know that we appreciate your tangible enthusiasm as a former Rebel the Black Bear mascot, but might we suggest a "Fins Up, Rebels!" tattoo for the other arm?
One of my favorite Town Hall features is interaction with our campus stakeholders.  Taking a page from my investiture, we encouraged everyone to "imagine what we can do and how far we can go" by brainstorming future news headlines that we should strive to achieve in the coming five years.  And let me say that we have some mighty creative people in the Ole Miss family who aren't afraid to think bold and dream big!  While this blog isn't long enough to list the hundreds of headlines we collected, here are a few that really resonated with me:
Academic Excellence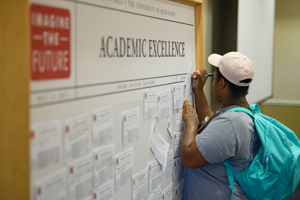 UM Experiences Unprecedented Graduation Rates, Leading the Nation
UM Increases Number of Research Faculty to Highest in SEC
UM Distinguished Faculty Named to National Academy of Science
Students Get Opportunity of a Lifetime to Solve Some of the World's Toughest Problems by Joining Faculty in Constellations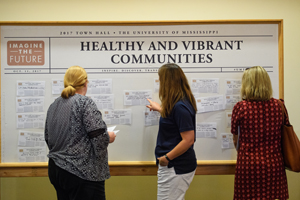 UM Endowment Surpasses $1B
Ole Miss leads SEC in Students Studying Abroad
Ole Miss Launches Arts Institute to Nurture Future Artists
UM Achieves Carnegie Community Engagement Classification Recognition
Ole Miss Named Best Place to Work for 15th Consecutive Year
Increased Number of Ole Miss Grads Staying in Mississippi for high-paying jobs
Alumni Giving Exceeds 20%
Grad Students and Young Faculty Rank Prospect Schools: UM No. 1
Landshark Voted #1 Mascot in America
Graduation & GPA Rates Continue to Rise Among Rebel Athletes
Student Athletes Excel Working Along M Partners
Ole Miss Wins NCAA Title
Stay tuned as we embark upon new and synergistic ways to make these headlines — and a multitude of others — a reality.  If we want to reach it, we have to imagine it!  And if you didn't get a chance to convey the future headlines you want us to achieve, be sure to share your thoughts on the Town Hall website.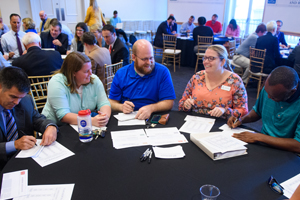 I want to thank the hundreds of faculty, staff, and students who took time from their busy day to participate in this year's Town Hall.  I would also like to extend a special thanks to David Magee, Ole Miss alumnus, longtime Oxford resident, and publisher of The Oxford Eagle, for a fantastic job as moderator.  I truly appreciate how invested everyone is in the future of our extraordinary university.
Finally, let me encourage you to read my "State of the U" address — or better yet, watch — and get up to speed on all the great things happening across our campuses.  And if I can share just one thing from my speech, it would be the importance of our role as a flagship university and embracing our responsibilities as Ole Miss Rebels:
As always, Hotty Toddy!
‐ ‐ Jeff
– –
Jeffrey S. Vitter
Chancellor and Distinguished Professor
P.S. I encourage everyone to attend the Flagship Constellations event next Friday, November 17 from 4–5 p.m. at the Gertrude C. Ford Center for the Performing Arts.