By Alyssa Schnugg
University of Mississippi Chancellor Jeff Vitter has enjoyed being transformed into an Ole Miss Rebel over the last eight months.
Vitter started as the new chancellor on Jan. 1, just in time to see the Ole Miss Rebels win the Sugar Bowl. He was given a Sugar Bowl ring to wear proudly as he began his journey in becoming a Rebel.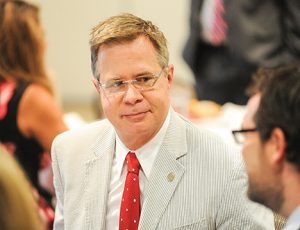 "Anytime my wife and I go to a restaurant, inevitably, the guy next to us leans over and asks, 'What did you play?' I'm going with tight-end so please back me up if anyone asks," he said Friday, joking with the group of people attending the Oxford and Lafayette County Chamber of Commerce's First-to-Know Breakfast.
The annual event is held to present chamber members an opportunity to meet with local community and business leaders to hopefully learn something new about Oxford, an upcoming business adventure or hear from local government officials and state legislators.
The spirit and accomplishments of the university have not only helped Vitter transform into a true Ole Miss Rebel, but he says the school constantly helps to transform thousands of lives and communities — locally and nationally.
Earlier this year, the University of Mississippi was included in the elite group of R-1: Doctoral Universities  -—Highest Research Activity by the Carnegie Classification of Institutions of Higher Education, as one of top doctoral research universities in the United States.
"During the time I've been here, I've thought a lot about what it means to be an Ole Miss Rebel and what it means to be at the university and simply playing that role in educating leaders and working to create a healthy and vibrant community locally and all around the state and nation," he said.
To help answer those questions, Vitter narrowed it down to three reasons why Ole Miss is a true flagship university: Ole Miss changes lives; Ole Miss changes Communities; and Ole Miss is one of the top 2.5 percent research universities in the nation.
"Having grown up in New Orleans, I have been long aware of the university's stellar reputation," he said. "The Ole Miss brand is very, very strong. Its programs have national and international appeal. And you can see how the brand value and draw to Ole Miss had grown over the years. It's gained a reputation as a growing research enterprise and not just taking those results for scholarly gain, but to make good on them and make a difference in the world. This university truly is synonymous with excellence, opportunity, family and community."
Vitter said this year's enrollment continues to break records, including having 450 freshmen in the honor's college and over 900 freshmen as provost scholars. This year, the school has 24,800 enrolled at the school, with about 20,000 on the Oxford campus alone. That doesn't include the about 21,000 students enrolled at the UM Medical Center in Jackson.
The average ATC score went up over a half point in one year. Last school year, the freshman class had an average ACT score of 24.7. Vitter announced Friday that this year's freshman class' average score was 25.2.
"We continue to recruit outstanding faculty," he said.
Vitter spoke on the generous private donations received by the school this past fiscal year, which reached $194 million.
"The value of the Ole Miss degree keeps going up," he said. "With these donations, we can do new things, better things —  not just to sure up existing programs but for us to go forward and truly be a flagship university."
Scientific discoveries continue to flow from UM's researchers, with more scientific breakthroughs, like being at the forefront of the discovery of a functional cure for HIV.
"How many physics departments in our country have faculty engaging in the discovery of the Higgs Boson and in confirming Einstein's prediction of gravitational waves?" he asked. "Again, that's Ole Miss."
Vitter announced that Ole Miss' own Dr. Chris McCurdy was elected recently as the 2016 President of the American Association of Pharmaceutical Scientists.
Vitter said Ole Miss is constantly striving to be better and pushing the envelope. He said Ole Miss athletics is just one way to bring new students to school so they can experience all the richness the university has to offer.
"That richness was on full display two weeks ago when we had eight Rebels on the international stage in Rio," he said. "And can you believe Sam Kendricks? He won the bronze medal. What could be better than that? How about his displays of sportsmanship and respect."
With just eight months as chancellor, Vitter said he has seen first-hand how Ole Miss is transforming lives and communities while being focused on excellence and focused on always getting better.
"The power of being an Ole Miss Rebel," he said, " is what we bring to the table and that we're always consciously working toward getting better. We have a big and important mission and will continue to partner with the city and county, our state and our partners across the world."
Source: http://www.oxfordeagle.com/2016/08/28/chancellor-vitter-speaks-at-first-to-know-breakfast/