The past two weeks have been an amazing time of celebration and appreciation at the University of Mississippi — our largest-ever commencements both at Oxford and (soon to be) at UMMC and a weeklong celebration of our dedicated and hard-working staff members. I couldn't think of a more perfect way to wrap up my first five months as your chancellor.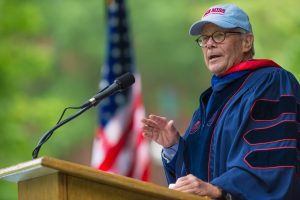 As a computer scientist, I am fascinated with numbers. Did you know that we conferred degrees this past year to almost 5,700 undergraduate, graduate, and professional students? I would tell you how many chairs were set up in the Grove for commencement, but I stopped counting at 14,398! What a sight it was too, especially with our beautiful new regalia. I couldn't resist capturing the moment and the incredible view before me via a panoramic photo with my phone.
Beyond the numbers, it was an incredible honor to have Tom Brokaw, longtime friend to this great university and one of America's most venerable broadcast journalists, deliver the 2016 Commencement address. He reminded us what a unique and special American tradition our graduation ceremonies are. In fact, he encouraged anyone searching for affirmation of America's greatness to look no further than the thousands of commencement ceremonies taking place across the country.
While Mr. Brokaw touched upon many important topics, his message resonated with me that equality and responsibility are the unfinished business of our time:
"The dream of equality for all is not an obligation of one race or another," Brokaw said. "It is a common calling in our unique society. We are still a nation of immigrants, where the rule of law is inadequate if the rule of heart is not also an equal partner. All shades of the American palette matter."
His stirring words reminded me of the UM Creed, and particularly the emphasis our community places on integrity, welcoming all people and respecting each person.
We are not quite done with ceremonies yet. I am looking forward to Friday when our medical center campus will hold its commencement. It is an honor for me to continue the celebration at UMMC with our future health care professionals, nurses, dentists, doctors, researchers, and scientists.
And keeping with the graduation theme, Sharon and I will end this commencement season as proud parents watching our daughter Jillian graduate from her residency program in early June.
To all our graduates, I reiterate the wise words of Mr. Brokaw and encourage you to use your special place in the world as an Ole Miss graduate to lift fellow Mississippians through tolerance, education, economic opportunity, and social acceptance. Follow your dreams, fulfill your great potential, and know you will always connect as part of our Ole Miss family — with or without clickers in hand!
And speaking of Ole Miss family, last week we held our Staff Appreciation Week. Thank you to all who organized and participated in the week's activities. From a plant swap to karaoke to Zumba in the Grove, there was a little bit of everything for all to enjoy. Congratulations to all those honored at the Staff Awards Ceremony on May 20th. Whether you were honored for 5, 10, 15, 20, 25, or 30 years of service, or for 47 years like Kathy Tidwell, you play vital role in making our university great and where students, staff, and faculty want to be.
I am looking forward to our Ole Miss baseball team hosting a regional this year. After attending many games this season, I can only imagine how electric the atmosphere will be. Here's to lots of home run showers in right field!
Congratulations again to all our graduates, faculty, and staff! Hotty Toddy!
    – – Jeff
– –
Jeffrey S. Vitter
Chancellor and Distinguished Professor