Welcome to the second blog in the series about the four pillars that form the foundation of our new strategic plan Flagship Forward, namely,
Academic excellence,
Healthy and vibrant communities,
People, places, and resources, and
Athletics excellence.
The first blog focused upon academic excellence and highlighted a multitude of ways we witness it every day across all of our campuses.  Today's blog calls attention to the vital role that we play in building healthy and vibrant communities.
When we talk about improving health outcomes in Mississippi, it's natural to start that conversation around our University of Mississippi Medical Center — the state's only academic health center.  It includes the only children's hospital in Mississippi, the only Level 1 trauma center, the only Level 4 neonatal intensive care nursery, and the only organ transplant program in the state.  It's truly a jewel for the citizens of Mississippi and the region.

And one of the best things about UMMC is the ongoing focus to do more:  We're always looking forward at the next big improvement — like the brand new 151,000-square-foot, $76 million state-of-the-art medical education building, so that we can train more doctors for our state, which currently has the fewest per capita in the nation … or our national role as a leader in telemedicine, which allows us to reach out into rural communities … or the $180 million expansion of our renowned Batson Children's Hospital, which will include private neonatal intensive care rooms, a pediatric intensive care unit, operating rooms, and imaging devices designed just for children.  Wow!  It's no wonder why UMMC is so important to creating #AHealthierMS!
How about some of the other ways that Ole Miss matters in our communities?  Just this past spring semester alone, we were bursting with activity:  In February, we hosted our first-ever Diversity Summit.  The following month, we dedicated six contextualization plaques, which signal our commitment to recognize our university's troubled history, learn from it, and move forward as a bright beacon of opportunity in a welcoming, inclusive environment.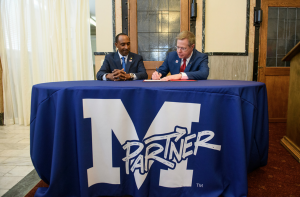 Later in March, we launched a powerful initiative called M Partner, which is all about making a lasting difference in our Mississippi communities.  Over the next two years, we will partner with three pilot communities — New Albany, Lexington, and Charleston — in a series of collaborative projects across the whole range of expertise of the university, including health & medicine, entrepreneurship & economic development, science & engineering, arts & culture, and media & law.  Over the years, one community at a time, we will work together to enhance long-term vibrancy in our great state.
Kudos go to our students for their passion and commitment to our communities:  This spring, our annual RebelTHON dance marathon raised over $265,000 for our Batson Children's Hospital, shattering last year's record-setting amount by more than $90,000!  In addition, thousands of student volunteers played an active part in our 8th Annual Big Event, the single largest day of community service at the university.
And we were all moved by the recent efforts of our Student Veterans Association and their My Ole Miss Wish philanthropy, which brings families to Oxford to provide unforgettable gameday experiences through Ole Miss Athletics with coaches, teams, and student veterans.  It was quite a special day for Colton, a patient at Batson Children's Hospital, and his family!
Another important role our university plays is economic development.  Take, for example, the McLean Institute for Public Service and Community Engagement.  Through programs like the CEED (Catalyzing Entrepreneurship and Economic Development), McLean works with communities across Mississippi to increase entrepreneurship and promote economic development in rural communities.
Just a few weeks ago, we hosted the 4th Annual Rural Entrepreneurship Forum at Insight Park and the Oxford Conference Center for over 100 business owners, economic development professionals, students, and university and community members.  The event included Insight Park tenant and Ole Miss alumna, Janet McCarty, as a featured speaker.  Janet — who was the 2014 Gillespie Business Plan winner — was recently named one of Mississippi's Top Entrepreneurs in 2018 by the Mississippi Business Journal!
And speaking of alumni, we have an enviable legacy for affecting change that extends far beyond our campuses and our state.  Our 135,000+ living alumni serve as passionate ambassadors for the Ole Miss spirit and make a positive difference in their communities the world over.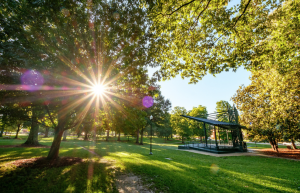 There are so many layers to building healthy and vibrant communities.  I obviously can't share them all in one blog.  But I would like to close with just a few mentions: Oxford's biggest-ever Double Decker Festival, our highly ranked UM Museum, the 20th anniversary of our Croft Institute for International Studies, our Flagship Constellation focused upon community wellbeing, how we engage global citizens, and life-changing experiences through study abroad.  And of course, Sharon and I count our blessings every day that we live on the most beautiful campus in America!
As always, Hotty Toddy!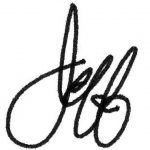 Jeffrey S. Vitter
Chancellor and Distinguished Professor
P.S.  With our Commencement celebrations coming up on Saturday at UM Oxford and on the 25th at UMMC, I want to extend hearty congrats to this year's 6,300 degree candidates!  For the Oxford festivities, we have set up 27,000 chairs around campus, including 15,000 in the Grove alone!  Now, that's what I call a vibrant academic community!