Today's blog is a follow-up on the exciting UM Tech Summit we hosted on August 31. We were grateful to have U.S. Senator Roger Wicker highlight an effort to bring key technology leaders to campus to share perspectives from the computer, telecom, Internet, and cyber security industries. These leaders shared valuable insights about how universities — especially our university! — can transform educational paradigms to address the needs of today's global workplace. Key to that transformation is the growing multidisciplinary field of data science, and at the Tech Summit we explored the opportunities the University of Mississippi has to be a national leader in the field.
Let me back up a minute. To understand why this matters, I want to share the following important national trends in data sciences:
According to the Bureau of Labor Statistics, in the next eight years there will be about a half million net new jobs created in the U.S. in the fields of computer and information technology. (http://www.bls.gov/ooh/computer-and-information-technology/home.htm).
According to the President's Council of Advisors on Science and Technology, the United States would need to increase its yearly production of undergraduate STEM degrees by 34 percent over current rates to match the demand forecast for STEM professionals.
An analysis from International Data Corporation (a global provider of market intelligence, advisory services, and events for the information technology, telecommunications, and consumer technology markets) projects that the big data technology and services market will grow at an annual growth rate of nearly 25 percent from 2014–2019, with yearly spending reaching nearly $49 billion by 2019.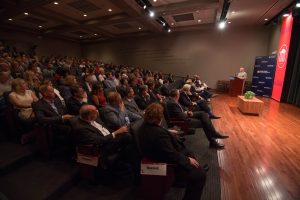 Perhaps Senator Wicker best explained why data science matters when he stated, "Our state and this university are not only a vital part of technology and Internet progress today, but in many important respects, we are leading the way. It is, in fact, our problems and our unique challenges in Mississippi that are causing us to be a world leader." For example, technology enables us to bring services and expertise, such as from our world-class telehealth program at the University of Mississippi Medical Center, to rural areas of the state. Rural communities throughout the world may benefit from sharing what we have learned.
To paraphrase Senator Wicker: where there are challenges, there are opportunities. At Ole Miss, as a Carnegie-designated "R-1" highest-level research university, we see a tremendous opportunity to establish transdisciplinary research and educational programs focused upon data science — "big data," data analytics, data security — so as to harness the power of data to improve lives and wellbeing while at the same time guard against the growing potential for abuse. From precision medicine to commerce to national security, we will build upon our existing strengths in medicine, business, accounting, remote sensing, intelligence studies, media, entrepreneurship, and emerging technologies.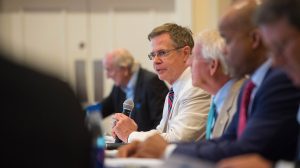 One Tech Summit panelist suggested there is no reason that students wouldn't flock to Ole Miss instead of another university like Stanford if data science programs were set up to accommodate those interests. He may have been taking a jab at me as a Stanford alum, but I couldn't agree more!
The power of data will be evident in the massive new STEM building that will soon begin construction on All-American Drive across from Vaught-Hemingway Stadium. When completed, the facility will focus on active learning methodologies, in which students make novel use of IT/multimedia and team-based interactions, while instructors use data analytics to tune their personal interactions with students in the classroom, resulting in a superb learning environment.
Without a doubt, our world is more connected than ever before. This connectivity has resulted from an explosion in computing power and an even larger explosion in the amount of data we can process. To put it into perspective, "the cloud" allows us to access billions of times more information than did my original 1984 Mac, which I have on my office shelf (and which just celebrated its 100,000th year-old birthday in binary!). Or consider that the smartphone you carry has millions of times more power than NASA's combined computing in 1969. And they sent men to the moon!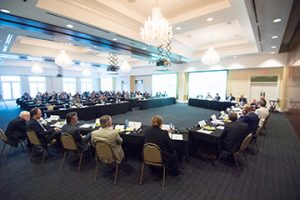 As a computer scientist, I am excited to see our university and corporate communities come together to embrace the burgeoning opportunities of data science. To fully do so, we must continue building public-private partnerships with the likes of the leaders and companies that participated in the UM Tech Summit. The insight and guidance they provided was invaluable. I look forward to hosting them on campus again soon as we continue onward.

Hotty Toddy!
    – – Jeff
– –
Jeffrey S. Vitter
Chancellor and Distinguished Professor
UM Technology Summit Panelists
Sen. Roger Wicker, Chair, Communications Technology Innovation & Internet Subcommittee, Senate Commerce Committee
Jim Barksdale, former president and CEO of Netscape Communications Corp.
Tom Becherer, founder and CEO of DeltaBridge
Bob Curbeam, vice president of Space Systems, a mission area within Raytheon Co.
Mayo Flynt, president of AT&T Mississippi
Josh Gladden, UM vice chancellor for research and sponsored programs
Walter Isaacson, president and CEO of the Aspen Institute
Rich Langford, strategic alliance manager for education with Microsoft Corp.
Hu Meena, president and CEO of C Spire
Jay Monroe, executive chairman and CEO of Global Star
Amb. John Palmer, founder and chairman of GulfSouth Capital and Skytel
Bill Rayburn, co-founder of FNC Inc.
Marc Siry, vice president of Comcast's Strategic Development Group
LouAnn Woodward, UM vice chancellor for health affairs and dean of the UMMC School of Medicine