Time for the fourth and final blog in my series on our new strategic plan Flagship Forward.  This blog is all about our pillar of athletics excellence and the important role athletics plays at Ole Miss in growth and increased visibility.  If you haven't had a chance to read my blogs about the other three pillars — academic excellence, building healthy and vibrant communities, and people, places, and resources — I encourage you to add them to your summer reading list.  Nothing is more riveting than the ways our extraordinary university is excelling!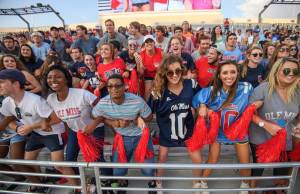 Let's jump right in with athletics excellence.  Ross Bjork, our AD and vice chancellor for intercollegiate athletics, aptly describes athletics as the "front porch" of the university.  Athletics captures the hearts and passion of people from around the world and draws them to campus, where they can experience firsthand the full richness of our great, comprehensive, flagship university.  Athletics gets students excited about being at Ole Miss, creates lifelong connections, and inspires alumni and friends to support us.  It truly heightens all aspects of our university.
First and foremost is the success of our student-athletes — on the courts and playing fields and in the classroom.  Every day our Rebel student-athletes — across all 16 of our men's and women's sports — benefit from the discipline, leadership, teamwork, and camaraderie gained by competing in the SEC.  They earn so much more than a trophy or a medal.  Perhaps our recent NCAA women's singles tennis national champ, Arianne Hartono, summed it up best when talking about going pro and how, as long as she loves to play, she'll keep at it: "If not, then I'll find something else to do.  That's why I have a college degree.  At the end of the day, it's not just about winning or losing.  It's not just about holding that trophy.  I got to spend four years of my life doing what I love."
Of all our successes in athletics, I'm particularly pleased how our Rebel student-athletes have achieved new heights academically:
Highest APR score in program history for the NCAA annual scorecard of academic achievement with an average of 989 — six points above the current national average of 983. And of our 16 sports, 11 posted perfect single-season scores of 1,000, with men's golf and women's tennis owning perfect multiyear scores of 1,000, which earned them the NCAA Public Recognition Award.
Highest Graduation Success Rate in school history at 84 percent.
Student-athletes recording the highest average GPA in school history with a 3.01.
A combined total of nearly 150 student-athletes named to the 2017 Fall, 2018 Winter, and 2018 Spring SEC Academic Honor Rolls.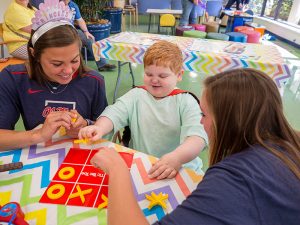 The impact of athletics extends to our communities through service and leadership.  Ole Miss teams regularly visit Batson's Children's Hospital at UMMC, as did the Rebel softball team to spend time with patients during a road trip in March.  And for almost 30 years now, the Chucky Mullins Courage Award has been presented annually to an Ole Miss player who embodies Chucky's undefeatable spirit, gritty determination, and positive outlook.  This year, C.J. Moore will wear No. 38 and remind us how Chucky's story truly transcends football.  More great examples of our commitment to service and leadership are the eight Rebels who earned Arthur Ashe Jr. Sports Scholar honors for the 2018 season because they excelled in the classroom as well as on the athletic field and demonstrated a commitment to community service and student leadership.
And of course, we have a record of excellence on the field.  Our recent history includes numerous NCAA berths across a broad range of men's and women's sports and seven national championships, including shotput, two in pole vault, and the first ever for individuals in men's golf and women's tennis.  Just in the last year:
Our Diamond Rebs captured the program's third SEC Tournament championship in addition to winning the SEC Western Division regular-season title.
Both the men's and women's tennis teams advanced to the Sweet 16 — one of only four schools in the nation this year to accomplish that feat.
Rising senior Randi Loudin took bronze in the National Women's Prone Championship at the USA Shooting National Championships for air rifle, pistol, and smallbore.
Ole Miss Golf's Braden Thornberry is the No. 2 amateur in the world.
And the Egg Bowl trophy returned to its rightful home in Oxford!
Our stellar coaching staffs play a key role in achieving athletics excellence.  We're delighted to welcome our two recent additions, Kermit Davis and Yolett McPhee-McCuin, into the Ole Miss family as we begin a new era for our men's and women's basketball programs.
And we are building for the future in athletics — literally!  Our basketball teams now compete in the best facility in the SEC, the Pavilion at Ole Miss; we have expanded and improved Vaught-Hemingway Stadium; our new indoor tennis facility is complete; and construction is underway on a baseball performance center.  Last September, we dedicated the new Jake Gibbs Letterwinner Walk, which features over 5,000 names of every student-athlete who earned a varsity letter at Ole Miss dating back to 1893.  And in December, we christened the state-of-the-art Gillom Athletics Performance Center, home to our volleyball team, which had a record-setting year in attendance and wins, including the National Invitational Volleyball Championship.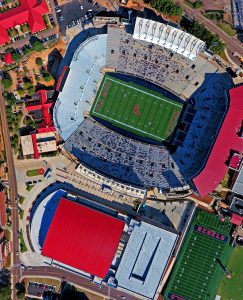 Another way our athletics excellence is evident is through the remarkable support from Rebel Nation.  We've seen record attendance numbers across the board and especially in football, baseball, and softball.  We've also seen increased support and record private donations, with our athletics budget rising from $57 million to $113 million in just five years.  And in a couple of weeks, we'll be wrapping up the sixth annual BancorpSouth Rebel Road Trip, with a total of 13 stops spanning seven states.
Let me close by saying how proud I am to be an Ole Miss Rebel and that I'm committed to building upon our outstanding momentum.  While there have been challenges, athletics will continue to be a foundational pillar in advancing our visibility and educational mission.  I'm confident that as we continue to focus upon our student-athletes and their exceptional achievements, we will be stronger than ever before.  I look forward to seeing you throughout the year,cheering our teams on to victory.  We Are Ole Miss!
As always, Hotty Toddy!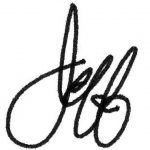 Jeffrey S. Vitter
Chancellor and Distinguished Professor