CHANCELLOR'S 3 THINGS TO KNOW
---
Greetings! Over the past few weeks, fall colors have popped across our beautiful campus — a fitting sight following our special designation as a 
Tree Campus by the Arbor Day Foundation
. The distinction reflects our ongoing commitment to caring for our green spaces for generations of students, alumni, and employees to enjoy, especially our crown jewel green space, the Grove. We've enjoyed a flurry of activity on campus in recent weeks, highlighted by the celebration for Eli Manning and the retirement of his #10 in Vaught-Hemingway Stadium. Our Rebels did the job this past weekend in taking out LSU and cracking the Top 10 in the rankings. Let's keep up the momentum this weekend in Auburn! Here are three important things to know about the university right now:
Duff Center Groundbreaking: Today, we officially broke ground on the Jim and Thomas Duff Center for Technology Innovation! It was a wonderful opportunity to thank the Duffs, the Gertrude Ford Foundation, and all the generous supporters of the project. The Duff Center will be a major enhancement to our campus – it's the single largest building project ever on the Oxford campus, and it will become a transformative resource for science and math education for our students. Check out the special section at the end of this newsletter to learn how the Duff Center will shape our campus, our educational offerings, our student experience and our future.
Science and Innovation Achievements: This fall, our faculty, researchers, and students have delivered a flurry of outstanding research activity. Take chemistry professor Jared Delcamp, who's exploring new materials that could unlock a sunlight-driven energy infrastructure. Or consider biologist Michel Ohmer, who is studying the resilience of amphibians through a $12.5 million NSF-funded research collaboration. Engineering professor Paul Scovazzo and brother Anthony Scovazzo are patent holders for an MDA grant-winning dehumidification system in air conditioners that could lead to more efficient AC systems and healthier indoor environments. Geological engineering students recently joined faculty in studying a fault line in Washington, D.C., collecting data to determine if the fault runs near several important landmarks, including the Washington Monument. On top of that, the University of Mississippi Medical Center delivered a record-breaking year in FY21 with 392 separate grants, awards and contracts totaling $123.5 million!
Degrees that Work: For five years running, our students have been named the state's best at finding employment and keeping it. The ranking, announced by Zippia in September, is based on data from the U.S. Department of Education that considers which colleges in each state have the highest job placement levels 10 years after graduation. These results reflect the strength of our institution, our students and our ability to serve the state, region and nation through excellent academic preparation.
Until next month, take care!
Glenn F. Boyce
Chancellor
TOP STORIES
---

Ole Miss students and faculty, along with citizens of Oxford, came to the Sandy and John Black Pavilion at Ole Miss on Tuesday evening to Make Kermit Pay. At the conclusion of the second annual Coaches vs. Cancer event, head men's basketball coach Kermit Davis wrote a check for $10,157 to the American Cancer Society.
---
UM's College Panhellenic Council held its 19th annual CARE Walk fundraiser in partnership with the Baptist Cancer Center to benefit uninsured residents of the Lafayette Oxford-University area by helping to provide access to breast cancer diagnostic tools.
---
Enrollment at the University of Mississippi Medical Center has seen growth during the COVID-19 pandemic with 453 prospects applying for the current M-1 class, the most ever for the school.
FLAGSHIP FACTS
---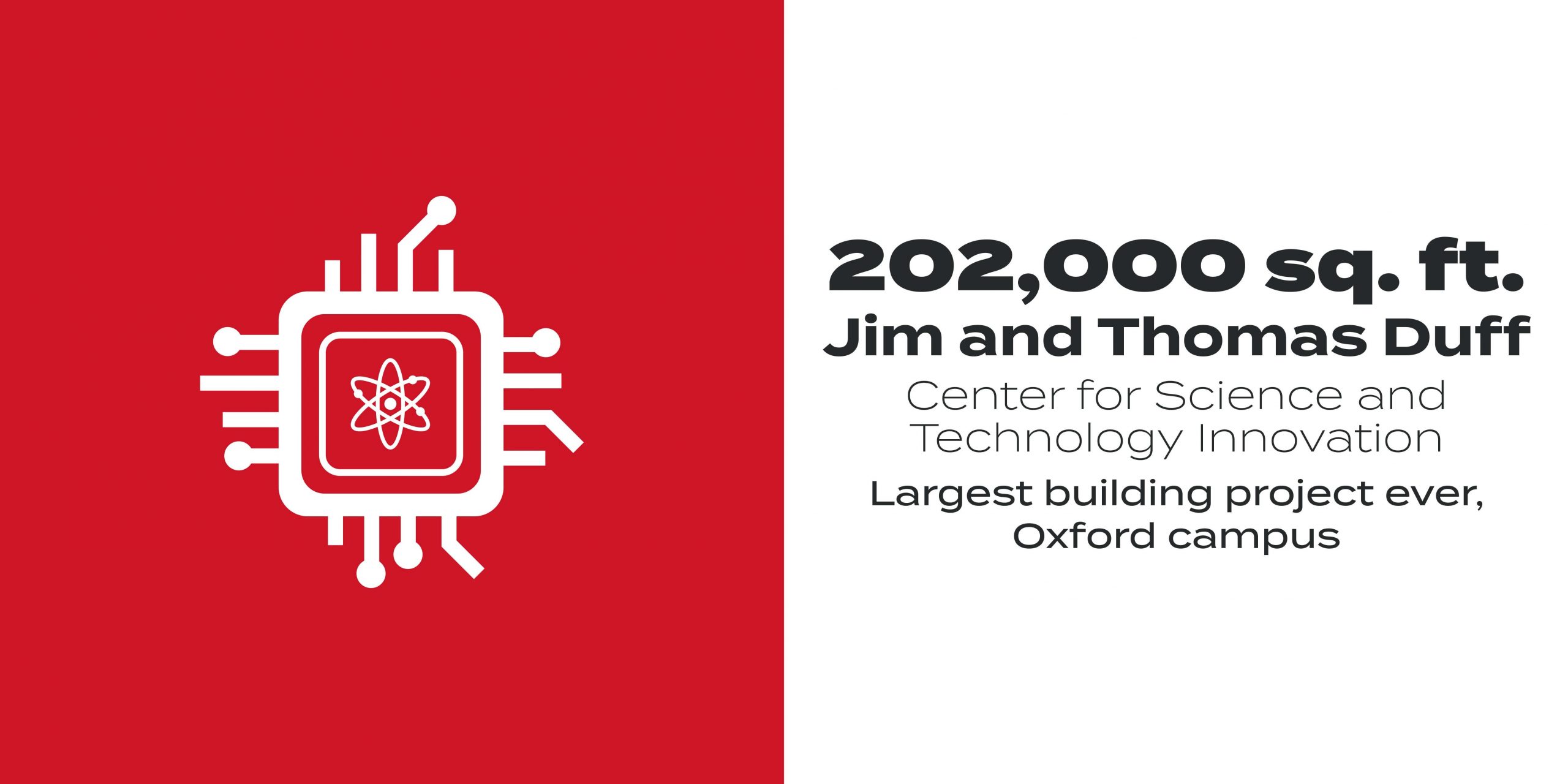 Special Section
Jim and Thomas Duff Center
for Science and Technology Innovation
On Oct. 29, the university celebrated with a groundbreaking for the Jim and Thomas Duff Center for Science, Technology Innovation. This long-anticipated building will be a fixture of the University of Mississippi campus and an unparalleled asset for our students, shaping the next generation of STEM-educated citizens.
LEADER IN STEM: The Duff Center promises to become one of the nation's leading student-centered learning environments for STEM (Science, Technology, Engineering and Mathematics) education, helping the University of Mississippi to provide graduates who are effective problem-solvers, team players, and highly technically skilled and informed.
SCIENCE FOR EVERYONE: The new learning environment fostered by the Duff Center will provide all students, regardless of major, a greater understanding of the role of science in society. Included among the goals of the center is improving preparation and effectiveness fo K-12 science teachers. Another vision is to bolster the general public's science literacy through programming
.
ANCHOR FOR A DISTRICT: The Duff Center will be a crown jewel within the University's Science District and will be situated along All American Drive, across the street from the FedEx Student-Athlete Academic Support Center. It will serve as the core for the University of Mississippi's science learning experience alongside neighboring Faser Hall, the Thad Cochran Research Center, Shoemaker Hall, Hume Hall, Anderson Hall, and Carrier Hall.
MAJOR PHYSICAL PRESENCE: At 202,000 square feet and four floors, the building is the largest single building project to date on the University of Mississippi campus, eclipsing even the J.D. Williams Library's 191,261 square feet — and 3.5 times more than the square footage of the iconic Lyceum. Additionally, the project will create Gertrude Ford Way, a major artery that will run between University Avenue and All American Drive.
SPACE FOR CONNECTION: In addition to its lab and classroom facilities, the Duff Center will house a student success and supplemental instruction center and a food service area within a central lobby and social hub. Additionally, the building will serve as an important crossroads for students from all academic disciplines. All students, regardless of major, are required to complete lab science credits to earn their degrees, and a large majority of students take these credits as freshmen. Bringing all freshmen-level science courses to the Duff Center will create a more connected science community.
INCREASING GRADUATES: The Center will advance progress on the university's goal of increasing the number of graduates in STEM fields among first-gen college students and underrepresented groups. This goal is aligned with the larger institutional responsibility to foster diversity, equity and inclusion as outlined in the recently released Pathways to Equity strategic plan.
SMART DESIGN: The building incorporates design strategies that facilitate good stewardship of resources, including elements that capitalize on the benefits of using natural light and highly efficient systems for heating, cooling, and ventilation that reduce energy consumption and carbon emissions. The building has technically advanced glass and shading devices that reduce unwanted direct sunlight admission and the resulting heat gain.
STATE-OF-THE ART FACILITIES: To provide an unmatched student learning experience, the building features Biology, Chemistry, and Physics TEAL (Technology Enabled Active Learning) Labs; a Visualization Lab that is similar to a small IMAX theater for 3-D visualization; labs for engineering students' senior design projects, including fabrication and testing equipment; and Geology, Bio-Med, Mechanical, Electronic, Robotic, and Environmental Engineering Labs. The variety of labs is in step with forward-thinking approaches in STEM education that move the educational experience from lectures to more active learning settings, where students are given inquiry-based projects and work as teams.
Duff Center Groundbreaking