As chancellor, I am committed to the University of Mississippi becoming a national leader in STEM education and building upon our status as the state's Carnegie R-1 highest research activity university. We are well along the path of this ambitious journey by collaborating with government and industry leaders around our strengths, by educating and developing students into exceptional employees and leaders for the tech sector, and by stimulating world-class research that drives innovation. We are doing all of these things and so much more.
So, time for a pop quiz! What do a U.S. Senator, a billionaire business innovator, and a university chancellor with a passion for computers and technology have in common?
All provided valuable insight into advancements and trends in the technology industry;
All shared ideas about how to transform educational paradigms to address the needs of today's global workplace;
All participated in the 2nd Annual Technology Summit at Ole Miss on August 30, 2017; or
All of the above.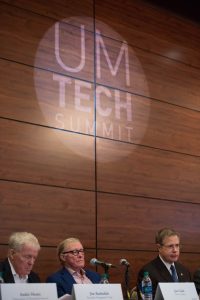 Hopefully, you not only guessed the correct answer "D," but also attended some or all of our exciting Tech Summit a few weeks ago. We were particularly honored to have U.S. Senator Roger Wicker, Silicon Valley icon Jim Clark, technology pioneer and noted Ole Miss alum Jim Barksdale, senior counsel for the chairman of the U.S. Federal Communications Commission Nick Degani, and numerous industry leaders (see the full list at techsummit.olemiss.edu). We are truly fulfilling what Senator Wicker envisioned last year when he first stimulated ideas about how to drive the conversations forward related to preparing the next generation of technology innovators. He also initiated a venue to explore common connections and challenges among businesses, government, and educational institutions.
Following nod to @jimb0111, @SenatorWicker: "What products of Miss. brain power will we be proud of two decades from now?" #UMTechSummit pic.twitter.com/z7PNdaqzdb

— Ole Miss (@OleMissRebels) August 30, 2017
In his first-ever trip to Mississippi, Jim Clark — who has been described as the man who single-handedly rewrote the rules of American business — shared his path to building two of the most successful and influential technology companies of the 1980s and 1990s, Silicon Graphics and Netscape. He also discussed how his three decades of leadership and innovative thinking have shaped an entire industry. I was excited to discover that Jim and I have a few crossed paths in our lives: Jim received a Ph.D. from the University of Utah in my own field of computer science. Jim was an associate professor on the faculty at Stanford University while I was a PhD student there. And Jim received his bachelor's and Master degrees in physics in my hometown of New Orleans! It was also fascinating to learn how Jim still writes computer code every morning to keep his mind fresh and sharp. What a treat for us to host someone of Jim's caliber on campus and to have on full display the spirit of entrepreneurship and spark of creativity that drive people!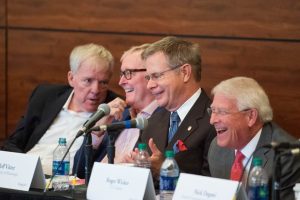 It was also significant that the Tech Summit featured Nick Degani, who conveyed his insightful perspective about the FCC's commitment to keep the U.S. a world leader in digital innovation and to ensure that every American can participate in the digital economy. His message on the importance of innovation, investment, and inclusion resonated with the audience.
Delving deeper into critical topics, this year's Tech Summit also offered breakout panels on strong defense and protecting the homeland, expanding access and opportunities to rural communities, and unleashing economic innovation. Allyson Best, our director of technology management, facilitated the "Unleashing Economic Innovation" panel and shared that a key takeaway was in workforce development and its importance to all aspects of economic growth. The panelists emphasized the need for everyone — from startups to public corporations — to adapt and educate both their employees and their customers in order to grow. Like Allyson, I am excited about UM's opportunity to participate in that growth.
Video courtesy WCBI, the Columbus-based CBS affiliate, who covered the 2017 UM Tech SummitAnd ICYMI, we unveiled some very exciting news for the university at #UMTechSummit: We entered into a strategic partnership with Globalstar (one of our Tech Summit participants) on a new satellite gateway at Ole Miss, which will establish a second-generation ground station on the university's Oxford campus, providing many great learning and research opportunities. I couldn't agree more with Jay Monroe of Globalstar about what better way to "hook students in" than via satellites!
Joined @OleMiss and @Globalstar at the #UMTechSummit to announce plan for new satellite communications station in @OxfordMS. pic.twitter.com/Nv1O2A8BXx

— Senator Roger Wicker (@SenatorWicker) August 30, 2017
What a dynamic day August 30th was for our university! Thanks to all our fantastic guests and panelists, it was full of ideas and synergy! It is truly remarkable how the Tech Summit has grown in just two short years. The event certainly complements many of our recent efforts in this area, including the new STEM building planned for our campus and our Flagship Constellation initiative to establish a leading, multidisciplinary research and education program in big data and data science. As we remain committed to accelerating our connections and conversations in the technology arena, I can't wait to see what's in store for future Tech Summits!
We also have some more exciting events just around the corner: Tomorrow (9/27), we are hosting U.S. Supreme Court Chief Justice John Roberts in Jackson for a moot court competition. He will also be the featured guest at the Mississippi Bicentennial's Judiciary and Legal Profession Banquet.
And be sure to mark your calendars for our 2nd Annual Town Hall on Wednesday, October 11, at 3 p.m. at the Inn at Ole Miss. You won't want to miss this interactive discussion of our new strategic plan for UM Oxford with some transformative initiatives that are universitywide. I look forward to seeing you there!
As always, Hotty Toddy!
‐ ‐ Jeff
– –
Jeffrey S. Vitter
Chancellor and Distinguished Professor