Whew! This time of year always feels like a race to the finish: We shot out of the starting gate last August and just crossed the chequered flag in May with our commencement ceremonies. But, we did it — we've completed another awesome academic year!
What an exciting time as we celebrated 5,022 graduates on the University of Mississippi Oxford campus and 971 graduates at the UM Medical Center. For the second year, I couldn't resist capturing the commencement moment and the incredible view of the Grove before me via a panoramic photo:

During commencement, we also celebrated the winners of three of our biggest annual awards:
2017 Elise M. Hood Outstanding Teacher of the Year Award: John Rimoldi, professor of medicinal chemistry;
Frist Student Service Awards: Robert Brown, professor of political science; Donald Dyer, associate dean of liberal arts and co-director of the Chinese Language Flagship Program; and Whitman Smith, director of admissions;
10th Distinguished Research and Creative Achievement Award: Alice M. Clark, vice chancellor for university relations and A.P. Barnard Distinguished Professor of Pharmacognosy.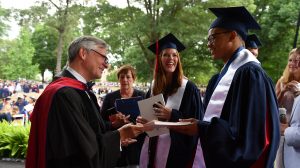 And ICYMI, we made our commencement speaker, Pulitzer Prize-winning author and presidential historian Jon Meacham, an honorary Ole Miss Rebel and bestowed upon him all the rights, privileges, and responsibilities appertaining thereto, which include
Saturdays in the Grove;
Sundays on the Square;
evening strolls around Rowan Oak;
the best college greeting/cheer there is: Hotty Toddy!
the option to throw a fins up during any athletic event;
the duty to name a future child, grandchild, or pet after a Manning;
unlimited visits to Oxford: the culinary and cultural mecca of the south; and
the opportunity to browse the best bookstore in the country!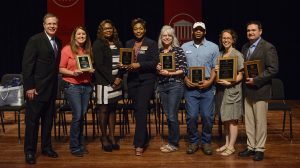 The completion of the academic year also provides us with the perfect opportunity to honor our staff because we all know they are the true backbone of this university. We appreciate all they do! A special congrats to all the 2017 Outstanding Staff winners:
Tony Ammeter (Office of the Provost);
Deetra A. Wiley (Office of Information Technology);
Susan Foust (Office of the Provost);
Amanda Blair (Outreach & Continuing Education — UM Desoto Center, Southaven campus)
Terrance Brown (Physical Plant, Carpentry Shop);
Sandra K. Buford (Physical Plant, Custodial Services);
Anne McCauley (Office of Sustainability) 2017 Overall Outstanding Staff Member Winner;
2017 Team Service Award Winners:

Campus Recreation and
University Communications.
Given that I am currently writing from the annual SEC meetings in Destin, now is an especially good time for a quick shout-out to our Ole Miss softball team and coaches for their SEC championship and historic postseason performance in their first-ever appearance in a super regional. And how about Braden Thornberry? He brought home the first-ever individual NCAA national championship for a Rebel in men's golf! Finally, be sure to tune in June 7–10 for the NCAA Outdoor Track & Field Championships in Eugene, Oregon, where we will have a total of 11 Rebels competing.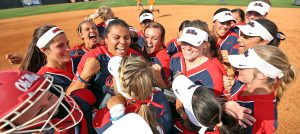 Though we can put the 2016–2017 academic year into the books, we've got a lot to look forward to over the summer. In addition to summer terms and freshman and transfer orientation sessions (16 of them!), just a brief look ahead brings us the 27th annual Mississippi on the Mall in D.C., exciting Bicentennial celebration concerts and events on the Oxford campus, and even a couple more Rebel Road Trips (Memphis and Jackson). Also, be on the lookout for information about the 2nd annual universitywide Town Hall to be held in the fall.
Congratulations again to all our graduates, students, faculty, and staff! Here's to a restful, productive summer. Can't wait to begin again in August! Let me leave you with some powerful words that Jon Meacham shared during the commencement address in Oxford:
"At its best, Ole Miss has armed you for what Oliver Wendell Holmes called the passion and action of the times. Your weapons are the elements that form this school's sure foundation: grace and strength and love."
As always, Hotty Toddy!
    – – Jeff
– –
Jeffrey S. Vitter
Chancellor and Distinguished Professor